Ballet boy is first British Bolshoi graduate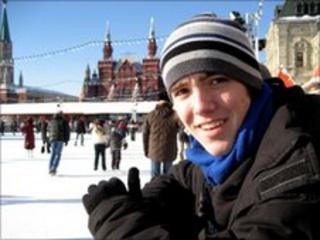 A Hampshire teenager has become the first British dancer to graduate from the prestigious Bolshoi Ballet academy in Moscow.
Henry Perkins, of Yateley, is due to receive his Bolshoi Diploma in academic and dance studies later.
Mr Perkins, who turned 19 in May, won a place at the 237-year-old academy in 2006, at the age of 15.
Since then he has become fluent in Russian and danced on the Bolshoi stage in two graduation performances.
'Incredible journey'
Speaking to the BBC from Moscow, his mother, Sue Perkins, said: "I'm very proud and full of admiration of the fact that he came out here just a few days after his fifteenth birthday.
"It's not easy - they do not have political correctess like we have in the UK and their work ethic is quite incredible - they work through injuries and tiredness."
Mrs Perkins said her son, who has been dancing since the age of five, threw away his football boots and asked for ballet shoes instead after seeing children dance in a pantomime.
She described his progress as an "incredible journey" and said her son had "made ballet history".
Mr Perkins has now been offered a contract with the National Opera Ballet of Estonia, directed by Thomas Edur, a former principal dancer at the English National Ballet.
Mrs Perkins said: "He invited Henry a couple of months ago to go and see him and offered him a contract. It will be a good halfway house for him when he comes out of Russia.
"He did get some offers to stay in Russia with some smaller companies as a soloist."