Lean Quarry fire site is monitored overnight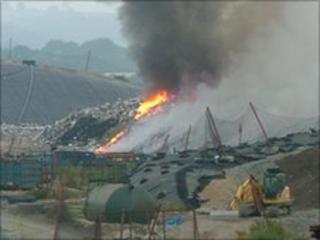 Emergency services have been monitoring a landfill site overnight in Cornwall after it caught fire on Thursday.
The fire, at Lean Quarry, east of Liskeard, was declared a "major incident" and burnt for 13 hours before it was extinguished.
Seven appliances and more than 50 firefighters were in attendance at its height and a 2km (1.2 mile) exclusion zone was in force.
Cornwall's fire service said it was now scaling back its presence.
Gas monitored
The fire was first reported at 0430 BST on Thursday after it was spotted by a driver who works for waste company Viridor, which owns the site.
It led to minor road closures in the immediate vicinity, and people in a nearby village and schools were told to stay inside because of burning plastic.
Smoke from the fire was visible for miles around and environmental health officers monitored the air in the neighbourhood.
Methane gas levels were managed throughout the day to avoid explosion risks at the site.
The site takes industrial and domestic waste from Plymouth and Cornwall.
The cause of the fire is not yet known. Viridor site manager Terry Farrant said the recent hot weather may have contributed, but that was not certain.