Royal Marines memorial at Norton Fitzwarren church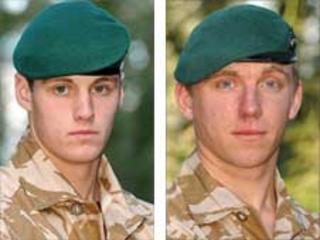 Respects have been paid to two Somerset-based Royal Marines who died from the injuries they sustained in Afghanistan.
A memorial service was held for Marine Steven Birdsall and Marine Richard Hollington at All Saints Church in Norton Fitzwarren on Thursday evening.
Four members of 40 Commando, based at the village, have died since Sunday.
Marine Birdsall, 20, and Marine Hollington, 23, both died in hospital in Birmingham.
Marine Birdsall was shot in Afghanistan and died at Queen Elizabeth Hospital on Monday 14 June.
Marine Hollington, who died on Sunday, eight days after being wounded in a blast, was the 300th member of the UK forces to die in the conflict.
Another service is planned at the church to remember the unit's Marine Paul Warren, 23, who died on Monday, L/Cpl Michael Taylor, 30, who died on Tuesday, and Sgt Steven Darbyshire, 35, who was shot by insurgents on Wednesday.
On Thursday, the MoD announced that four British soldiers had been killed in a road accident in Helmand.
A total of 307 UK military personnel have died in Afghanistan since the start of operations in 2001.