Man reburied after Walsall Wood grave mix-up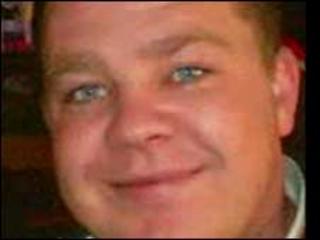 The exhumation has taken place of a West Midlands man who was buried in a grave reserved for someone else.
Daniel Hastelow, 26, was murdered in Majorca and buried in November 2009 in St John's churchyard, Walsall Wood, in a plot reserved for a widow.
On Friday morning, his body was reburied in a new grave in the churchyard.
Mr Hastelow's mother, Susan Hastelow, said she felt angry about how her family had been treated.
She said her son had only been buried for four days when a vicar came to tell them about the mix-up.
She also said she felt she had not had any support from the diocese.
"It is all right saying sorry but we have had no respect or sympathy from the Church at all.
"Hopefully we can move on, but I am full of anger at how we have been treated."
The exhumation was ordered by a court in April after hearing Mr Hastelow had been buried in a reserved plot.
The consistory court, a Church court, had heard the grave had been reserved by faculty, a legal order, so that the widow could be buried next to her husband.
Mr Hastelow's family had not wanted his body moved again after having his remains flown over from Majorca where he had been working as a barman.
They were given leave to make an appeal against the consistory court ruling, but the Church said an application had not been received.
The churchyard was closed off on Friday as the reburial took place.
'Additional grief'
Gavin Drake, a spokesman for the Diocese of Lichfield, said now the exhumation had happened he hoped both families involved would be able to begin the healing process.
He explained that the family had received several visits from the area's archdeacon offering help and support.
"We understand Mrs Hastelow is hurting," Mr Drake said.
"No matter how often we say sorry we cannot put right what has happened.
"Our apologies will never be enough."
After the hearing, the Lichfield diocese said it was changing its burial rules so such a mix-up could not happen again.
Markers the size of a small stone or slab will be placed on reserved plots in cemeteries across the diocese in future.
Mr Hastelow was stabbed in January 2008.
His family campaigned for many months to raise the money to pay for his body to be returned home and his remains were eventually exhumed on the Spanish island and sent to the UK.
Richard Roberts, 36, from Merseyside, was convicted of Mr Hastelow's murder and jailed for 18 years in September 2009.