Wogan treks back to uncover Irish roots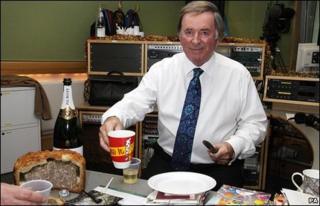 Sir Terry Wogan is preparing for a "landmark" pilgrimage back to his Irish homeland.
The Limerick-born star of television and radio, is returning to Ireland to make a two-part documentary for BBC 1.
He will be travelling from the south to the north and exploring what it means to be Irish in the 21st century.
During his journey he will meet old friends and step back into his past to explore how Ireland has shaped him.
Terry Wogan was born in Limerick, Ireland and educated at the city's Crescent College.
After leaving college Wogan went into banking where his innate ability to separate half crowns from two bob bits soon marked him down for greater things.
Five years later he joined Radio Telefis Eireann - the Irish National Radio and TV Service - as a newsreader announcer.
After two years of interviewing and presenting documentary features, Wogan moved to light entertainment as a disc jockey and host of television quiz and variety shows.
Face of Eurovision
His first regular BBC Radio show was Midday Spin and, when Radio 1 started, he presented Late Night Extra for two years, flying over from Dublin every weeks.
In 1969, he stood in for Jimmy Young when he went on holiday and later that year, in October, Terry took over his own daily show on Radio 1 and 2.
In April 1972 he took over the morning show on Radio 2. He presented this until 1984, shortly before his three times a week chat show, 'Wogan' began on BBC One. The programme ran for the next seven years.
His extensive television credits also include 'Song for Europe', 'The Eurovision Song Contest', 'Lunchtime with Wogan', 'Come Dancing', 'Celebrity Squares', 'New Faces' and 'Blankety Blank'.
He returned to Radio 2 in 1993 as host of 'Wake Up To Wogan' amd presented the show until December 2009. In 2005 he was knighted.
BBC commissioning executive Maxine Watson said: "Terry is the perfect person to take us on this journey.
"He, like millions of Irish people before him, may have settled elsewhere, yet across the diaspora there remains a strong sense of Irish identity."
The new show will be filmed later this month in HD and will air on BBC1 later this year.