Commonwealth baton reaches India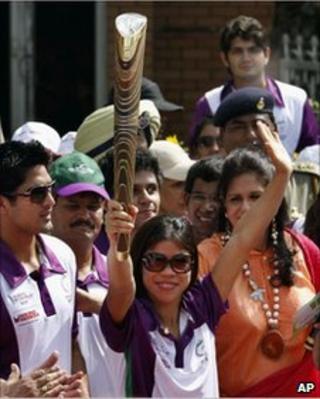 The Queen's baton for the Commonwealth Games has reached India from Pakistan, 100 days before the games begin.
Pakistan Olympic Association president Syed Aria Hassan handed over the baton to his Indian counterpart Suresh Kalmadi at the Wagah border.
It will now travel across India before reaching the the capital, Delhi, for the opening ceremony on 3 October.
The baton was launched in London by Indian President Pratibha Patil and Queen Elizabeth II in October.
'Great occasion'
A colourful ceremony was held at the Pakistan-India border as Pakistan handed over the baton.
Marked by song and dance, it was attended by Commonwealth Games Federation chief Mike Fennell of Jamaica and Delhi Chief Minister Sheila Dikshit.
"This great occasion comes when exactly 100 days are left for the Games," Mr Kalmadi said.
"We promise you the best ever Commonwealth Games," he added.
The baton has already covered 170,000km and will be covering 20,000km in India.
The 12-day Commonwealth Games will be India's biggest sporting event since the 1982 Asian Games in Delhi.
Delhi has been undertaking major infrastructure work, including the installation of new metro lines, in preparation for the Games.