Australia ready for first female leader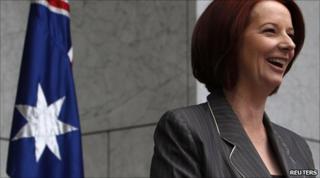 "She's the boss," proclaims the Australian tabloid The Daily Telegraph.
"Who would have thought they would live to see a female prime minister sworn into office by a female governor general?" asks the Sydney Morning Herald.
It shows a picture of Julia Gillard and the Queen's representative, Quentin Bryce, presenting a tableau of governmental femininity which could just as easily have been captioned "Women at Work".
"Strewth! There's a Sheila running Oz." You have to go the British tabloids to find the stereotypical take on her rise to power - a threadbare and outdated stereotype at that.
For what is perhaps most striking about the Australian coverage of Julia Gillard's rise is the lack of commentary dealing with this "female first".
Naturally, it makes for a good headline. But the question of whether Australia is ready for a female prime minister can be dealt with in a single word - an emphatic "yes".
Twenty-five years ago there were perils in selecting a woman to fight a marginal seat, but not any more.
In recent years male bastions of political power have been breached all over the country.
New South Wales, Australia's most populous state, has a female premier, the American-born Kristina Keneally - and the polls show she is the country's most popular premier at that.
Queensland, arguably Australia's most conservative state, last year elected a female state premier, Anna Bligh.
The deputy leader of the opposition Liberal Party is a woman called Julie Bishop.
Former Prime Minister Kevin Rudd had a record-breaking seven female ministers, four of whom were of cabinet rank.
Lady in The Lodge
And now, exactly 40 years after a young Australian feminist named Germaine Greer published her breakthrough opus, The Female Eunuch, a woman has become the most powerful of her compatriots.
There is a lady in The Lodge, Canberra's prime ministerial residence.
As Caroline Overington of The Australian wrote proudly: "Julia Gillard's ascension to the highest office (under the governor general, another woman) is the realisation of the great feminist dream."
"It is precisely what our mothers - and Germaine! - hoped would one day happen, as they argued, throughout the 1960s and 1970s, for fundamental changes to the fabric of the nation."
Under the headline "Labor's Rebirth: It's a Girl", the comedian Catherine Deveny on ABC's The Drum described her untrammelled delight.
"As my three little boys ate breakfast yesterday I said, 'Pizza for dinner if Australia has its first female PM by tonight!' Then I teared up.
"Guys, imagine. Julia Gillard! A female prime minister. A woman as prime minister of Australia."
But there have been landmark breakthroughs in most of the other realms of national life.
Away from politics, Gail Kelly shattered the glass ceiling in high finance by becoming the CEO of Westpac, one of the country's "Big Four" banks.
As the chief executive of the Australian Industry Group, Heather Ridout has become one of the most influential and authoritative voices in corporate Australia.
Kay Goldsworthy has recently been consecrated as the first Australian female bishop in the Anglican Church.
Last year, Kate Torney became ABC's first female head of news.
Slow progress
To say that Australia is ready for its first female prime minister is not to deny that progress has been slow - sometimes frustratingly and painfully so.
It was not until 2009, when Anna Bligh won a mandate from the people of Queensland, that a female was elected as a state premier.
Both Victoria and Western Australia had witnessed female state premiers, but they were elevated to the post rather than elected - just like Julia Gillard.
Neither went on to win elections as premiers, though this was down to the unpopularity of their governments rather than their gender.
Neither South Australia nor Tasmania have had women in the top job, though the voters of the Australian Capital Territory and the Northern Territory have returned female leaders at the polls.
At federal level, Australia has yet to see a female treasurer or a foreign affairs minister. Before becoming prime minister, Julia Gillard was the first deputy.
It was not until 1990 that Australia saw the appointment of its female federal court judge. It was not until 1992 that Janet Holmes A'Court joined the male-dominated Reserve Bank Board, the first woman to do so.
Even now, only 6% of CEOs of Australia's top 200 companies are women.
They account for only 13% of the nation's judges.
When Kevin Rudd convened the 2020 Summit, a two-day "thinkathon", he originally asked only one woman, the Oscar-winning actress Cate Blanchett, to chair one of the 10 brainstorming panels.
Almost 40 years after the first landmark equal pay case, recent figures from the Sex Discrimination Commissioner, Elizabeth Broderick, revealed that women earn only 84% of what men get paid.
It is also the case that Australia has an ugly, macho backroom political culture in which men still dominate.
Not so much smoke-filled rooms as testosterone-filled rooms.
The factional power-brokers who carried out the political hit-job on Kevin Rudd and put Julia Gillard in power are all men.
The same is true in New South Wales, where two male power-brokers installed Kristina Keneally.
So perhaps that will be the ultimate gender test for Australian politics. When will the day come when those faceless power-brokers have complexions that are stubble-free?