Papers discuss move to raise pension age to 66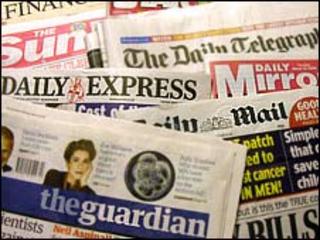 The government's changes to the age at which men will receive the state pension is widely discussed in Friday's papers.
The Times has been told by government sources that the coalition is expected to introduce a law that would link retirement to longer life expectancy.
The age at which people could draw the state pension would go up by 12 months every four or five years, it reports.
The Express complains that the burden of working longer appears to be falling on the private sector only.
The Guardian warns that a rising retirement age threatens to become a moving cliff edge which the vulnerable could fall off.
It says poor people in their 60s are often ground down by a lifetime of graft and have shorter retirements to look forward to than their wealthier counterparts.
As the Independent puts it, manual labourers might not be able to continue working as long as someone who works at a computer.
Family austerity
The Telegraph leads on savings. It says a Bank of England report shows that families are saving more money than they are borrowing, for the first time in more than 20 years.
The paper believes the trend reflects the culture of austerity.
The Mail says a study has revealed the way children are gorging themselves on sweets, chocolates and snacks.
Figures show that they are getting fat almost twice as quickly as US youngsters, it reports.
Immigration re-think
According to the Financial Times senior Conservative ministers are forcing a rethink on the party's policy of a cap on migrants, after warning that it could damage the economy.
Education Secretary Michael Gove and Universities Secretary David Willetts believe a cap could call into question the coalition's claim that "Britain is open for business", it says.
The Sun gives hope to England fans dreading a penalty shoot-out against Germany, as England players have a better scoring rate from the spot.