Lula promises massive north-east Brazil flood aid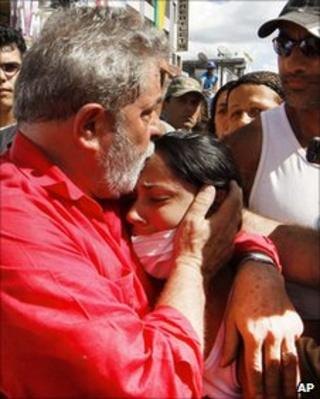 Brazilian President Luiz Inacio Lula da Silva has promised a massive relief effort for north-eastern regions devastated by floods.
After a visit to the worst-hit areas, President Lula approved more than $300m (£200m) in emergency aid.
Entire towns and villages were swept away as rivers burst their banks after heavy rains in Alagoas and Pernambuco states.
More than 150,000 people have been left homeless, and 46 are confirmed dead.
"What we saw on the streets was very different to what you see on television or in the newspapers," Lula said after visiting flood-ravaged towns by helicopter.
"We have the political, human and moral obligation to help rebuild what has been destroyed."
Flood prone
Several rivers reached record levels, sweeping away bridges, roads, hospitals and schools.
Many towns and villages are still partially flooded or buried in rubble and mud.
Soldiers have been using boats, planes and helicopters to get aid to the worst-affected areas. Damaged railway tracks and roads have hampered the aid effort.
President Lula also urged local authorities not to let people rebuild on areas subject to recurring floods.
"It was irresponsible in the past to let people live on the banks of the river and it would be much more irresponsible to let them go back".
People in one of the worst-hit towns, Branquinha, have already said they are considering rebuilding on higher ground to prevent any repeat of the disaster.
Civil defence officials have reduced the number of people still missing from 600 to less than 150 after finding people in rural areas who had escaped the floods.
The BBC's Paulo Cabral in Maceio says 50 residents from the remote village of Muquem, missing since Friday when a raging torrent destroyed their community, were found on Wednesday.
They survived by seeking shelter in the only safe place available in the area - two big trees - our correspondent reports.