Refugees 'forced to return' to Kyrgyzstan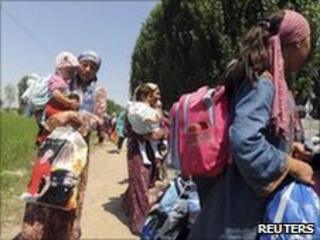 A human rights group says it is worried by reports that Kyrgyz refugees who crossed into Uzbekistan two weeks ago have been forced to return home.
The UN Refugee Agency says that of the estimated 100,000 Uzbeks who crossed the border after ethnic violence in Kyrgyzstan, nearly all have returned.
It is unclear how many may have felt pressured to do so.
Amnesty International says it has anecdotal evidence that some refugees were forced onto buses to Kyrgyzstan.
This was done, the group said, by refugee camp guards and Uzbek security forces.
One Uzbek refugee told Amnesty International that many people she knew did not want to return but that they had no choice.
It is unclear how many such cases there may have been.
One returnee told the BBC that an Uzbek army officer had gently urged them to return and that he said he was acting on instructions from the provisional government in Kyrgyzstan, which wants people back in the country for a constitutional referendum on Sunday.
Speaking to the BBC, the deputy chairman of the provisional government, Temir Sariyev, said he had not heard any reports of people being forced to return home:
"Uzbekistan's authorities acted in the right way - they opened the border, allowing many people to cross it and stay there for a while," he said.
"It helped us to avoid more bloodshed. It is the will of the people to come back, I think. They are Kyrgyz citizens regardless of their ethnic group and they might want to return home."
It is hard to say which version - or versions - of events are more accurate.
What is clear is that Uzbek refugees have been cautiously returning to their homes in large numbers in spite of the insecurity which persists in southern Kyrgyzstan.