Rafa Benitez gives to Rhys Jones Memorial Fund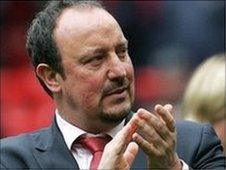 Liverpool FC's former manager Rafael Benitez has donated an undisclosed amount to the Rhys Jones Memorial Fund.
His cash injection will help build the new community centre in memory of the 11-year-old who was shot dead in Croxteth in 2007.
The new Inter Milan boss arranged for a cheque to be delivered to the Jones family on Thursday.
Mr Benitez said: "In all my time at Liverpool this is one of the stories that affected me most."
Rhys Jones was gunned down while walking home from football training through the Croxteth Park Estate.
His killer Sean Mercer was convicted two years later after a lengthy police investigation and scores of arrests of gang members across Liverpool.
Mr Benitez added: "I am doing this on behalf of the people that cannot. I know that every person on Merseyside would have loved to give the fund a donation but they are in hard times and can't find the extra cash.
"To think that this lovely little boy was taken from his family in such awful circumstances is heart-breaking.
"I still remember his mother, father and brother Melanie, Stephen and Owen coming to the match not long after Rhys died and how they were so dignified, it is something I will remember for a long time.
"I hope this money goes towards making this community centre happen for all of those people who are working so hard for it."
The £1.5m development is just yards from where Rhys honed his football skills and will include a purpose-built sports facility when it is finished.
Melanie Jones, Rhys' mother, said: "I'm lost for words really. This is so kind of Rafa and his family and we are once again overwhelmed by the generosity.
"He didn't have to do this and we have let him know just what a difference it will make to this project.
"Something good will come out of our tragedy if we manage to keep Rhys' story in the hearts and minds of everyone."
Rhys' father Stephen added: "It's an amazing gesture, and as Melanie says the football clubs together with the players and managers have been a great help ever since we lost Rhys.
"We will put the money to great use and continue to try and sing the praises of sport over joining gangs or getting involved in crime. It's really given the family an amazing boost this."
Mr Benitez made a £96,000 donation to the Hillsborough Family Support Group only a few weeks ago and has also donated money to the Lily Centre - a Liverpool based charity that offers support to women with breast cancer.
Related Internet Links
The BBC is not responsible for the content of external sites.