Spate of arson attacks on Dartford Heath in Kent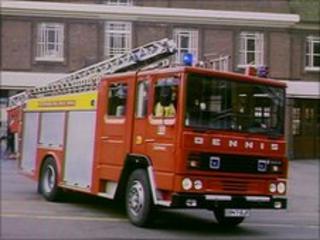 Youths responsible for a spate of arson attacks on Dartford Heath have been warned they are putting lives at risk.
Kent Fire and Rescue Service said they have been called to suspicious fires on the heath nine times in the past week.
Fire crews are now visiting schools in the area to warn of the dangers of starting fires, while rangers from the local council are stepping up patrols.
Dartford station manager Phil Rice said starting fires was not "harmless fun".
He said: "Deliberate fires are destructive and dangerous and those who cause them are putting themselves, firefighters and others at serious risk.
"There is no pattern to the recent spate of incidents but we believe that many of them have been started deliberately.
"With the grassland so dry at the moment, these fires could quickly and easily spread."