Burry Inlet cockle deaths 'not water quality'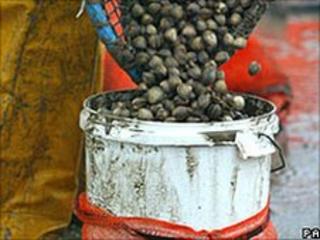 Fears that water pollution was to blame for cockle mortality at the Burry Inlet are groundless, a council claims.
Carmarthenshire council said an Environment Agency Wales study has found no evidence of poor water quality.
It comes after poor water quality and sewage was blamed for mass cockle deaths at the inlet.
The council said delayed building developments in the Llanelli area will now be allowed to go ahead.
Thousands of tons of cockles have died in the Burry Inlet in recent years.
The local industry supports around 50 gatherers, some of whom blame sewage and other environmental issues for the cockle deaths.
Carmarthenshire council said the results of the agency's interim study, which included scientists from Bangor and Swansea Universities, had "once again found no evidence of poor water quality".
It said the results did not back up claims of sub-standard sewage treatment in the Loughor Estuary and Burry Inlet.
Councillor Clive Scourfield, of the council regeneration executive board, said: "I hope that the results of this latest study by experts in their field will be enough to convince the cocklers and campaigners that water quality in the Burry Inlet is not an issue.
"Whilst I sympathise with the cockle gatherers, they must now accept that water pollution is simply not to blame for cockle deaths.
'Precious years'
"The estuary is some 90% cleaner than it was a decade ago when raw sewage used to be routinely pumped into the estuary. This no longer happens.
"This has cost Llanelli precious years in regeneration and multi-million-pound development, we can now move on and deliver those projects which will make such a huge difference to the economy of the area."
Steve Brown, of Environment Agency Wales, said in a statement: "These interim studies have not found any evidence to link environmental pollutants to the cockle mortalities."