Environment award for Sainsbury's Northampton building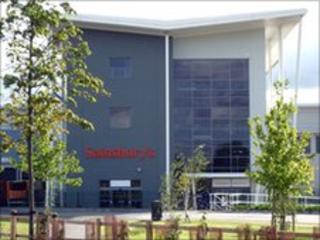 A supermarket distribution centre in Northampton has won an environment award.
Sainsbury's distribution centre at Pineham, Northampton has won a Green Apple Award for the Built Environment and Architectural Heritage.
The building, completed in 2007, includes an on-site recycling unit and the rainwater harvesting system saves 16 million litres of water a year.
The Green Apple Award aims to encourage environment-friendly developments.
'Green building'
The Green Apple Awards, presented by The Green Organisation, are part of an annual international campaign to recognise, reward and promote environmental best practice around the world.
The distribution centre was developed by Prologis and the planning authority was the West Northamptonshire Development Corporation (WNDC).
The 618,000 sq ft building is energy efficient and a carbon neutral building.
Adrian Arnold, director of planning Services at WNDC said: "The Pineham distribution centre is one of the greenest buildings of its kind.
"Sainsbury's and Prologis have really pushed the boundaries and produced an exemplar scheme, setting a new standard for similar buildings to follow."
The distribution centre serves 50 stores.