Public inquiry set to consider Lydd Airport expansion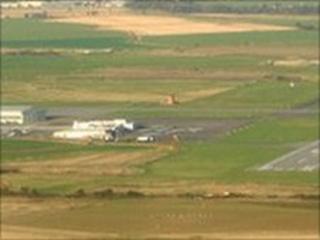 A public inquiry is to be held into £25m development plans to expand Lydd Airport in Kent.
The scheme was passed by Shepway Council in March, but the Government Office for the South East has decided a public inquiry must be held.
Councillors approved plans for a runway extension and a new terminal building.
Lydd Airport spokeswoman Jo Oliver said she was "deeply disappointed" by the decision which would delay "much-needed investment in jobs and facilities".
She added the airport remained confident that it could secure the go-ahead for its "ambitious proposals".
'Environmental victory'
In contrast, the decision was hailed as "a victory for the environment, for local people and for common sense" by the RSPB.
Chris Corrigan, RSPB regional director for South East England, said: "The Dungeness peninsula is one of the most important and sensitive wildlife habitats in the UK.
"When combined with considerable local opposition and the increasingly significant impacts on climate change, it seems only right that the airport expansion plans are given the fullest and most rigorous examination before being allowed to proceed."
His comments were echoed by Sean Furey, deputy director of Protect Kent.
"Romney Marsh is one of the most beautiful and tranquil landscapes in South East England," he said.
"We want tourists to come to the area to appreciate it and support the local economy, but we have long argued that expanding the airport is the wrong way to go, and would damage internationally important wildlife habitats in the process.
"We are glad that these issues will be explored rigorously by an inquiry."