People 'afraid to ask veterans about war'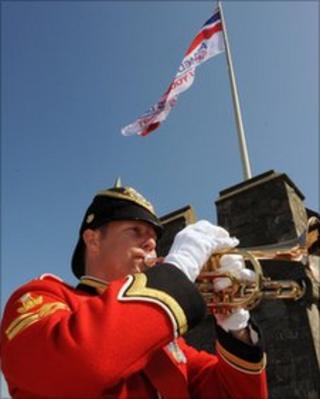 Some 70% of people feel uncomfortable asking current or former service personnel about their experiences of war, according to a survey.
A poll of 2,012 people for the charity St Dunstan's, which supports blind veterans, found that almost half were afraid of causing upset or intruding.
The charity said it was understandable to feel nervous about asking questions, but that talking could be helpful.
The research comes ahead of Armed Forces Day on Saturday.
St Dunstan's conducted the survey as part of Blind Heroes Week, which aims to raise awareness of the sacrifices made by veterans of all conflicts.
'Apprehensive'
The survey found that the older generation appeared to be more comfortable asking difficult questions, with 63% of over-55s saying they would feel uneasy, compared with 81% of 16-to 34-year-olds.
Of those who said they had tried to do broach the subject, 65% believed the individual had found it difficult to speak.
Barry Porter, director of welfare and grants at St Dunstan's, said: "It's understandable that people feel apprehensive asking questions, especially when talking to people who have been directly involved in conflict.
"Often it helps for people to talk about their experiences with those who have been through something similar."
Cardiff will host a series of events to mark the second annual Armed Forces Day - designed to honour all military personnel, past and present.
The Prince of Wales and Duchess of Cornwall will attend the commemorations and open the new Firing Line Museum of the Welsh Soldier at Cardiff Castle.
There will be a military parade through the city and fly-overs by the Battle of Britain Memorial Flight, the Red Arrows and a helicopter display team.
HMS Kent will also dock in Roath Basin, in Cardiff Bay, and visitors will be invited on board for a tour.
Events will also be held throughout the UK.
A service of tribute will be held on Saturday at the National Memorial Arboretum in Staffordshire, and marches will take place in Glasgow, Edinburgh and London, among a host of other cities.
Protests
In Dorset, the annual Tankfest will take place, showing off military hardware from past and present.
The event this year will also include a demonstration of counter-insurgency operations of the kind carried out regularly in Afghanistan.
Those opposed to that conflict are expected to make Armed Forces Day a focus for protest.
Demonstrations will be held outside Army recruiting centres in London, and campaigners are also planning a five-day walk from the capital to the military prison in Colchester.
They are angry at the imprisonment there of soldier Joe Glenton, who went absent without leave after refusing to return to Afghanistan because of his opposition to the conflict.