Intruders chop down tree blocking Poole Harbour view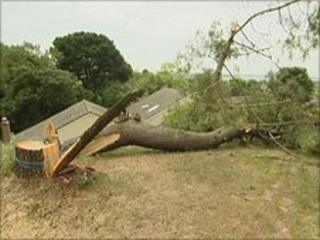 A tree which blocked views of Poole Harbour in Dorset has been chopped down by night-time garden intruders.
Steve Bransgrove, who lives in the house in Heavytree Road, Parkstone, said he woke after hearing a massive bang in the early hours of Sunday.
He found that his 12m (40ft) 52-year-old Scots pine, the subject of a tree preservation order, had been felled.
It narrowly missed hitting his and his neighbours' houses and a criminal investigation has now begun.
During the fall the tree broke Mr Bransgrove's fence and then lay across the garden.
Dorset Police is investigating the incident as an act of criminal damage.
Mr Bransgrove said he had heard the sound of an engine revving at about 0200 BST.
"I thought it was kids on mopeds out the front and then there was a massive bang, a humungous crash."
Mr Bransgrove only realised what had happened after his neighbours switched their lights on at the back of their house.
"The crash actually vibrated the whole house," he said.
"I was shocked to start with, absolutely stunned.
"Then you think how lucky you are [that it didn't land on the house] but then anger takes over - that someone had the nerve to actually come in to someone else's property and decide that something they didn't like there they had the right to take away.
"They've not controlled the way it was falling, they were just trying to get it chopped down as quickly as possible and make their escape."
Poole council is also investigating the incident and said it aimed to bring a prosecution against the person or people who felled the tree.
Brian Leverett, leader of Poole council, said: "The problem is in the land values within this town. They're so, so high that it's in developers' and residents' interests in cases to cut down trees.
"I think we want to move to fines which realistically make it not worthwhile for developers and other people to cut down trees.
"If they're fined, as a minimum, the difference of the value of the land with the tree standing and with the tree felled, there would be far less incentive and that would be a far greater deterrent."