Up to 1.5m drivers 'fined illegally' in London
By Ed Davey
BBC News, London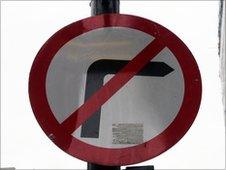 Up to £150m in fines given to motorists for traffic offences may have been unlawful, BBC London has learned.
In 2009 a motorist fined for taking an illegal turn had his penalty quashed because of the wording on his ticket.
It has now led to questions over millions of tickets issued in similar circumstances.
Local councils and Transport for London (TfL) have erected hundreds of signs stopping drivers from making left or right turns or carrying out other manoeuvres classed as "moving" traffic offences.
In the last three years about 1.5 million motorists have been fined £120 for not obeying the "moving" traffic signs.
In the test case, which has just emerged, motorist Zeesham Sheikh challenged a ticket issued by Waltham Forest Council for failing to comply with such a sign.
The Parking and Traffic Appeals Service (Patas) upheld Mr Sheikh's appeal.
The adjudicator found that the wording on the ticket referred to the sign itself and not to the traffic order that legally gave it power.
For technical legal reasons Patas ruled that mentioning the sign alone on the ticket was not sufficient to enforce the fine.
London Councils, which represents the city's local authorities, wrote the wording which was then printed on tickets issued across the city.
Parking campaigner Barrie Segal, who helped bring the issue to light, claims the ruling means any tickets issued with that wording were not enforceable.
He said: "Millions of pounds of London penalty charge notices are illegal.
"TfL and other local authorities will have to cancel all outstanding tickets issued and refund millions of pounds illegally claimed."
After the adjudicator's ruling London Councils amended its recommended wording for tickets issued over moving traffic offences.
That happened in October 2009 but Mr Segal believes any tickets issued before that date could be challenged.
Moving traffic signs include those which prohibit right and left turns, u-turns, entry to and waiting in pedestrian zones and signs which prohibit motorcycles and sometimes cars in certain areas.
In 2007, 418,512 moving traffic tickets were issued in London, rising to 611,130 in 2008 with 418,512 awarded last year, totalling £150m in fines.
Nick Lester, director of services for London Councils, said: "I don't know why they cancelled it [Mr Sheikh's ticket].
"But the adjudicator's decision does not act as a legal precedent."
He insisted drivers who paid up in similar circumstances were too late to reclaim money, adding: "If they don't appeal against the ticket the council has a right to say they accept culpability."
Mr Lester said that, while they changed the wording, they did not accept the original phrasing was wrong.
Transport for London has also been issuing fines to motorists who have not been following the signs.
A TfL spokesman said: "TfL has complied with legislation and it is up to any individual to challenge a penalty charge notice within the appropriate time scale."
Waltham Forest Council said it was examining the ruling.
The disclosure comes after BBC London revealed every ticket given to members of the public using diplomatic parking bays until 2009 may have been unlawful.
Related Internet Links
The BBC is not responsible for the content of external sites.