Plan to cut West Sussex coastal flood defences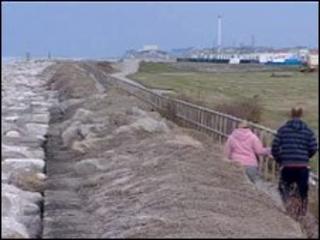 Plans to abandon the maintenance of sea defences along a stretch of West Sussex coastline have been put forward.
The Environment Agency said spending £15,000 a year to defend Climping from flooding was no longer economically justified.
The agency said it would continue to protect the majority of properties at risk of flooding between Arun and Pagham.
Climping residents said they were frustrated by the decision.
The proposal has been unveiled in the agency's flood and erosion risk management strategy.
The agency said it would withdraw maintenance of defences at Climping, near Littlehampton, two years after the strategy is approved.
Minor repairs
John O'Flynn, the agency's coastal risk manager, said: "We cannot prevent all flooding and erosion but we believe that what we are proposing is the best way to manage the risks.
"Unfortunately, maintaining the defences at Climping with government funding cannot be economically justified."
Resident Henry Burrell said: "We are victims of the economic situation. At the moment the purse strings are tight and I can understand that.
"Nevertheless, it makes me feel frustrated that such a small sum of money... would keep this perfect and the way it is."
The flood strategy will now go before Arun District Council and the agency's board of directors for approval.