Heather Mills' complaint against Piers Morgan rejected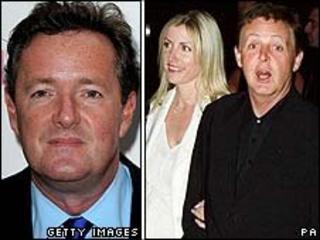 Claims by Piers Morgan he introduced Heather Mills to her ex-husband Sir Paul McCartney were not inaccurate, the Press Complaints Commission has ruled.
The ruling follows a complaint made by Mills against a Mail on Sunday article in which Morgan asserted he had played a key role in their 1999 meeting.
"I, to my eternal shame, introduced her to Paul," wrote Morgan in an article published in the newspaper on 7 March.
Mills said the claim was incorrect, but the PCC did not uphold her complaint.
'Merits of memorability'
It also ruled Morgan's description of Mills as being the writer of "nothing but bleating letters of complaint to newspapers and divorce lawyers" did not breach the Editors' Code of Practice.
The dispute relates to a Pride of Britain awards ceremony in 1999 which was attended by Morgan, Mills and Sir Paul.
Morgan's recollection was that he had physically introduced the pair to one another as guests mingled after the ceremony.
But Mills said this was incorrect, claiming Sir Paul had seen her speak at the event and had contacted her afterwards.
The PCC said it was not in a position to reconcile Mills and Morgan's conflicting recollections.
However, as the awards had been organised by the Daily Mirror, it was "not misleading" for Morgan - its former editor - to suggest he had "effectively been the means to their introduction".
It noted no complaint had been made in the past, despite Morgan having made the claim on several occasions.
It also said he had been making "a rhetorical point about the relative merits or memorability" when he made mention of Mills's allegedly "bleating" letters.
Sir Paul McCartney and Heather Mills were married in 2002, separated in 2006 and divorced in 2008.
In his article, part of a series entitled The 100 British celebrities who really matter, Morgan said his introduction had eventually cost Sir Paul "£24 million for four years of married hell".
Since being sacked by the Mirror in 2004, Morgan has become an outspoken judge on Britain's Got Talent and its US sister show, America's Got Talent.
Since her divorce, Mills has competed on Dancing with the Stars, the US version of Strictly Come Dancing, and ITV1 show Dancing on Ice.