Bradford deaths river search ends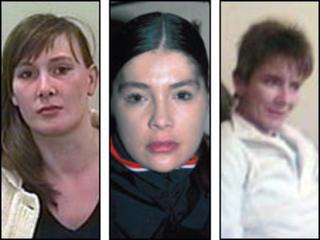 Searches of a river for the remains of missing women from Bradford have ended.
Body parts belonging to Suzanne Blamires were found in the River Aire in Shipley, West Yorkshire, in May.
Human tissue belonging to Shelley Armitage was also found in the river but the rest of her remains, along with those of Susan Rushworth, are missing.
Stephen Griffiths, 40, has appeared in court charged with murdering the three women. Searches of his flat in Thornton Road, Bradford, are continuing.
A West Yorkshire Police spokesman said the river searches had concluded with "nothing of any significance" being found.
Ms Blamires, 36, Ms Rushworth, 43, and Ms Armitage, 31, were all sex workers in Bradford.
Mr Griffiths, a mature student, is accused of murdering Ms Blamires between 20 May and 25 May; murdering Ms Rushworth between 22 June, 2009, and 25 May this year, and murdering Ms Armitage between 25 April and 25 May this year.
A provisional date of 16 November has been set for his trial at Bradford Crown Court.