Small creditors 'need protection', says OFT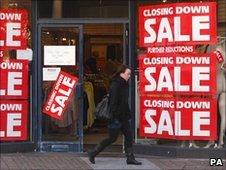 An independent body to deal with complaints against insolvency practitioners should be set up, the Office of Fair Trading (OFT) has said.
A body is needed because unsecured creditors sometimes get a poor deal when firms are wound up, it said.
The OFT's conclusion follows a study of the corporate insolvency industry.
It found fees charged by insolvency practitioners can be 9% more for unsecured creditors than those for secured creditors.
"While the market often works well, it may not work in the best interests of all creditors in over a third of administrations and creditors' voluntary liquidations (CVLs), procedures which together account for 75% of income earned by insolvency practitioners," the OFT said.
The study found that insolvency experts earn about £1bn in fees each year for dealing with insolvent firms whose assets are worth £5bn.
The OFT found that in 37% of cases, where secured creditors, such as banks, got all their money back, they then lost interest in controlling the fees and actions of the insolvency experts who had been appointed to rescue or sell the insolvent businesses.
The result, the OFT found, was that the remaining unsecured creditors, such as the taxman, customers and small businesses, were then unable to exert as much control on the process as the banks.
This meant that the current procedures for dealing with insolvent companies were "unable to effectively protect the interests of small creditors", the OFT said.
It said it had received many complaints about insolvency procedures taking too long, or about so-called pre-packaged insolvency deals in which a business is swiftly sold to a buyer who has been lined up before the company has gone bust.
But the OFT said it had not been able to decide if these were big problems.
It said a complaints body should have the power to decide if insolvency experts had taken too long or charged too much, and that it should be able to levy fines and return overcharged fees.
Related Internet Links
The BBC is not responsible for the content of external sites.