Multinational Afghan force faces 'complex challenge'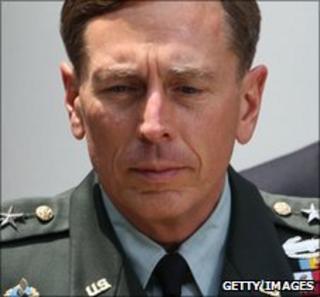 The US military's top officer has warned that the months ahead in Afghanistan will be challenging.
Adm Mike Mullen, chairman of the Joint Chiefs of Staff, said the Afghan war strategy would remain unchanged under the new head of multinational forces, Gen David Petraeus.
His predecessor, Gen Stanley McChrystal, was fired for his critical comments about senior US officials.
Adm Mullen said: "The strategy hasn't changed and the policy hasn't changed."
US President Barack Obama - who dismissed Gen McChrystal in a meeting at the White House on Wednesday - said the comments, published in Rolling Stone magazine, failed to "meet the standard that should be set by a commanding general".
Speaking in Washington on Thursday, Adm Mullen said the US military was "very focused on the time between now and July 2011", when a gradual withdrawal from Afghanistan of US forces is due to begin.
US forces comprise by far the largest element in Nato-led international forces in Afghanistan.
Adm Mullen said securing the southern Afghan province of Kandahar, one of the areas where the Taleban insurgency is at its strongest, would be "an extraordinarily complex challenge."
He added that he was confident that continuing efforts to secure the town of Marjah, in neighbouring Helmand province, would work but would take time.
"The indicators are moving in the right direction," he said. "It gets darkest right before the dawn in these kinds of operations. That violence will eventually be tamped down."
'Invading forces'
US Defence Secretary Robert Gates has said America remains "committed" to the Afghan war effort and the decision to name a new commander should not be seen as a "slackening" of that position.
He told reporters on Thursday that the war in Afghanistan was turning out to be "slower and harder than anticipated" but did not believe the US was "bogged down".
Speaking at a Pentagon news conference, Mr Gates said he did not feel that Gen McChrystal's published criticism of his civilian superiors resulted from any management breakdown or lapse at the Department of Defense.
He described the appointment of Gen Petraeus as "the best possible outcome to an awful situation".
Nato's top civilian representative, Mark Sedwill, has said the Western military alliance's strategy in Afghanistan "remains on course", despite the sacking of Gen McChrystal.
Mr Sedwill said "no-one wanted to see General McChrystal go" but he was "much reassured" by the appointment of Gen David Petraeus.
He added that the Taliban would be "making a mistake if they think this is good news having David Petraeus come in here to lead this effort".
However, a spokesman for the Taliban, Yousuf Ahmadi, told the Agence France-Presse news agency there would be no change in the insurgency.
"We don't care whether it's McChrystal or Petraeus. Our position is clear. We'll be fighting the invading forces until they leave," he said.
A spokesman for the Afghan defence ministry, Gen Zaher Azimi, said of Gen McChrystal: "We wish he hadn't gone."
But he said Afghan officials expected Gen Petraeus to follow Gen McChrystal's policy "which has reduced civilian casualties, brought down arrests and house searches and involved co-ordination on operations".
The BBC's Quentin Sommerville in Kabul says that although in public Afghan officials say the matter is an internal one for the US, he has heard that President Karzai and other Afghan leaders are not happy with the sacking.
Our correspondent says that although the US has insisted there will be no change in strategy, so much of it had been built around Gen McChrystal that Afghan leaders cannot help wondering whether there will be policy shifts too.
The UK's Lt Gen Nick Parker has taken interim command of Nato's Afghan forces until Gen Petraeus is confirmed by the US Congress.