New £19m dementia unit for Swansea's Cefn Coed Hospital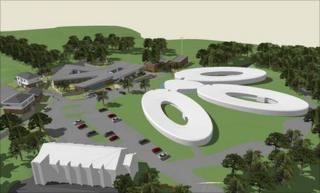 A new 60-bed unit for elderly people with dementia and other mental health conditions will be built in the grounds of Swansea's Cefn Coed Hospital.
It will provide specialised assessment, treatment and rehabilitation services replacing older facilities in the city.
The Welsh Assembly Government is providing £19m and it is expected to be completed later this year.
Health minister Edwina Hart said it would improve care, privacy, dignity and access for patients.
The development forms part of the Abertawe Bro Morgannwg University Health Board's plans to improve mental health facilities in Swansea.
The new unit will replace what it calls outdated facilities at the Cefn Coed site and at Garngoch Hospital in Gorseinon.
Mrs Hart said it was designed to reflect a "domestic and homely environment" to best care for patients, who will often stay for long periods of time, sometimes in excess of 18 months.
Specialised psychiatric nursing and therapeutic care will be delivered in dedicated areas to ensure the dignity and privacy of patients, she added.
The new unit will have increased visiting areas, with facilities for family to stay if their relative is particularly ill or in the last days of their life.
Mrs Hart said: "This new facility will greatly improve services as well as the care environment for people with dementia and other mental health conditions in the Swansea area.
"I am dedicated to transforming mental health services in Wales and this investment will contribute to that - improving the care, privacy, dignity and access to support services that patients deserve.
"The developments are in line with our commitment to improve mental health services and support for people living with dementia."
In December the assembly government announced £10m for the creation of two smaller units at the hospital - which are nearing completion.
Health board chairman Win Griffiths said: "We are delighted the Welsh Assembly Government has supported this very important development in the grounds of Cefn Coed Hospital.
"It is a state-of-the-art facility, which has been purposely designed and built for patients with dementia type illnesses, to provide them with a safe and top quality environment."