Royal Mail to be reviewed again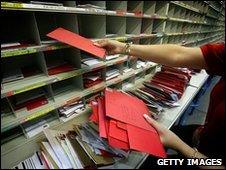 The man who recommended the part-privatisation of Royal Mail is to review the service again to take into account worsening market conditions.
Richard Hooper presented the findings of his initial report to the then-Business Secretary Lord Mandelson in December 2008.
But the Labour government took no action on the future of Royal Mail.
The coalition government has previously said that it would seek to partially privatise Royal Mail.
Mr Hooper will present his initial findings by the end of July and the final report by September.
Present Business Secretary Vince Cable said: "Unless we take the right steps, Royal Mail risks being laid low by falling mail volumes, low investment and a huge pensions' time bomb.
"We want to deal with these challenges and will be coming forward with new legislation to do just that.
"We believe that Richard Hooper's recommendations and analysis are still broadly valid today, but as our policy develops we want to be able to test it against current market conditions."
Mr Hooper told BBC Radio 4's You and Yours programme: "What I recommended last time was a strategic partnership with a postal operator that had done modernisation. That was interpreted by Lord Mandelson as part-privatisation.
"If there was a specific difference [between then and now], it would be the overarching economic climate... and the statement that there is no money around.
"Clearly privatisation of Royal Mail would lead to money coming into the public purse."
Mr Hooper said there were three options for privatisation: "One is a public offering (IPO), one is private equity and thirdly there is a sale to a trade investor."
This summer will see a change at the top of Royal Mail with Moya Greene, the boss of Canada Post, due to take over as chief executive in July.
"The pace of modernisation at Royal Mail is quickening and therefore the value you can get from privatisation will grow," Mr Hooper said.
He added that the universal service obligation "was at the heart of my first report, it is at the heart of the refresh".
Related Internet Links
The BBC is not responsible for the content of external sites.