Inspection and diploma rules loosened for colleges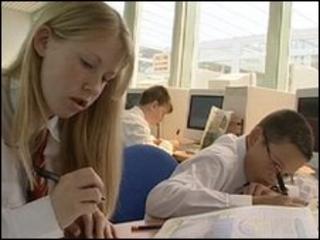 Outstanding sixth form colleges will no longer face routine Ofsted inspections under government plans to remove red tape from the education system.
Schools and colleges will also no longer have to offer learners access to all 14 diplomas, due to be available from September.
Schools minister Nick Gibb also said he was stopping the development of the extended diploma.
Teachers not politicians knew what was best for their pupils, he added.
On diplomas, Mr Gibb said he wanted students to be able to sit the qualification that was right for them, whether that was diplomas, the International Baccalaureate, A levels and GCSEs, or IGCSEs.
"That is why we are removing the unnecessary bureaucracy and cost associated with the requirement that every school offers access to every diploma line, and why we are stopping development of the extended diploma," he added.
In reality, few schools or colleges would have offered all 14 diplomas themselves. They would instead have worked with other providers to ensure the spread of qualifications was on offer in their local area by 2013.
The development of academic diplomas has already been axed - and the move may send a message that the qualification is not popular with the coalition government.
But Mr Gibb sounded a note of reassurance, saying: "That does not mean young people presently studying for a diploma, or who plan to start one in the future, should think again, and I want to reassure them.
"We want to see how diplomas work, and learn from them to improve the quality of vocational education in this country.
"It is not the role of government to make sweeping assumptions from the centre about what is best for them, and to introduce unnecessary bureaucracy."
On the removal of Ofsted inspections from outstanding colleges, Mr Gibb said the move brought sixth form colleges in line with further education colleges and schools.
Complex
They were part of "a longer running programme of red tape reduction", he said.
These included allowing schools to offer the international GCSE.
Chief executive of the Association of Colleges Martin Doel said colleges had spent significant time and resources developing their diploma offer and that he was pleased the government was continuing to support them.
John Dunford, general secretary of the Association of School and College Leaders, welcomed the move on diplomas but said their complex structure could be simplified.
"It remains the case that schools and colleges will need to continue to work together in order to offer a good range of courses for 14-19 year olds.
"However, heads and principals will be relieved that there is no longer a requirement to offer every diploma at three levels in every area."