Guinea hoping for end to military misrule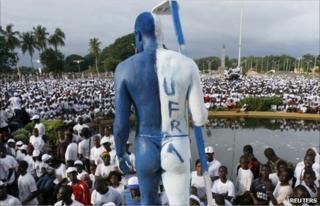 When Guineans go to the polls on Sunday to elect a new president it will be the first time since independence 52 years ago that the people of this West African nation will freely choose their leader.
Until now, elections have been skewed in favour of those already in power and the country's leaders have only brought brutality, corruption and poverty to its people.
In a country with the largest bauxite deposit in the world, as well as an abundance of gold and diamonds, it is shocking that some of Guinea's 10 million people can only afford one meal a day.
But there is real optimism that this election could finally drive the army out of politics, leaving democratically chosen leaders to try and improve the lives of all Guineans.
'Democratic record'
"The army has been a bad influence on Guinean society," said university student Mamoud Berete.
No members of the military junta are standing and most people here believe their promises to hand power to the winners of the election.
"We Guineans will set a new record by peacefully and democratically electing our new president," said Conakry taxi-driver Mamadou Diouldde Ba.
The atmosphere so far has been good and there have been no significant reports of violence across the country.
Campaign rallies have been marked by singing, dancing and drumming, with the biggest events bringing the entire city to a halt as the main candidates address crowds of many thousands.
Independent Guinea has known only two elected leaders and one military head of state.
But during the reign of all of these men the country has known violence, killings and exactions and massive corruption.
Killing habit
Ahmed Sekou Toure, who became president after independence in 1958, is alleged to have tortured and exterminated thousands of his opponents who he would first incarcerate in the infamous Camp Boiro prison in Conakry.
His successor, Lansana Conte, a military man who seized power following Toure's death in 1984, came under intense international pressure to hold elections in the early 1990s.
He succumbed but the opposition claimed widespread irregularities as Conte was declared the victor and remained in power despite allegations of corruption on an industrial scale.
And his military backers continued Toure's habit of killing opponents.
The most notable occasion was in January 2007 when more than 100 Guineans lost their lives after being shot by security forces, as they demonstrated on the streets during a general workers' strike.
Conte died in 2008 and Captain Moussa Dadis Camara seized power even before his body was buried.
Initially Capt Camara won popular acclaim with his promises to end corruption and hold democratic elections in which neither himself nor any other military man would stand.
Nine months later, however, his soldiers killed some 150 pro-democracy demonstrators who went to a football stadium to protest after he was believed to be about to contest the presidential poll after all.
This led to a new round of unrest and international condemnation and one of his aides tried to kill Capt Camara.
He survived but was forced into exile in Burkina Faso.
Is sorry enough?
After all these killings at the hands of state security forces, many argue this country needs a truth and reconciliation process.
Current military leader Gen Sekouba Konate, who will oversee the elections, recently launched a "National Reconciliation Day".
In his speech he apologised to the people of Guinea for crimes committed by his three predecessors.
However, a mere apology has satisfied few and it remains to be seen whether the victor amongst the 24 presidential candidates, which includes the first woman to contest a presidential election, will lead to an investigation into past crimes.
All candidates have promised to continue the reconciliation process.
After its troubled history, numerous groups are sending election observers - though the international community is being realistic in its expectations.
"We want these elections to be as free and as transparent as possible," said US ambassador Patricia Muller recently.
The four top contenders are three former prime ministers - Sidya Toure of the Union of Republican Forces (UFR), Cellou Dilein Diallo of the Union of Democratic Forces of Guinea (UFDG) and Lansana Kouyate of the National Party for Hope and Development (PEDN) - plus the oldest politician in opposition ranks, Alpha Conde of the Rally of the Guinean People (RPG).
Every supporter is backing their candidate for specific reasons.
Ethnic fears
Mr Toure brought electricity, water and cheap prices for basic essentials when he served as prime minister.
Supporters of Mr Diallo, mainly from the economically powerful Peulh, or Fula, ethnic group in the Fouta Djallon region, think it is their turn to rule, as previous leaders have come from Guinea's two other large communities.
"We have had Susu and Mandingo heads of states in the past, so it's now our own turn," said Amadou Barrie, a trader at the main Madina market centre.
Mr Kouyate's supporters are banking on the former diplomat's international contacts to bring lots of badly needed economic aid to the country.
While Mr Conde's supporters argue he deserves a chance after his unwavering opposition for 18 years, snubbing all of Conte's efforts to bring him into government - an act of stoicism that saw him jailed.
The priority for Guinea's voters are converting the country's mineral wealth into better living standards - electricity, water, affordable prices of basic goods, good roads, schools and healthcare.
But silently lying underneath all of these is the issue of ethnicity.
Most Guineans would only support a candidate from his or her ethnic group or region.
Political observers say this is the sword of Damocles hanging over this - so far - smooth process of a return to constitutional rule.
They fear that the losers could try to stir up trouble along ethnic lines - some have long warned that Guinea could follow its neighbours Sierra Leone and Liberia into civil war.
But for the moment, optimism is the order of the day and the international community - both African and Western - is watching events closely, ready to put extreme pressure on any trouble-makers.