Chris Tarrant ex-wife Ingrid 'wrestled' by Pc in Cobham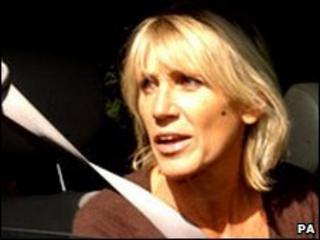 Chris Tarrant's ex-wife was wrestled to the ground by a police officer following a confrontation over a parking ticket, a court has heard.
Ingrid Tarrant, 55, of Cobham, Surrey, drove off as the Pc issued her with a penalty notice on 24 December 2008.
After a pursuit, Tarrant screamed at the officer as he tried to handcuff her for failing to stop, Kingston Crown Court heard.
Tarrant is appealing against her sentence and conviction in July 2009.
She was convicted of causing an unnecessary obstruction, wilfully obstructing a Pc, resisting a Pc and failing to stop.
During the first day of her appeal hearing, Pc Peter Groves told the court he had seen Tarrant's car parked at a bus stop in Cobham High Street.
When he returned 20 minutes later, the vehicle had not been moved so he decided to issue a ticket.
As he did so, the court heard, Tarrant returned to the car and said: "You lot are as bad as traffic wardens. Get a life."
Despite the efforts of Pc Groves to stop her, she got into the vehicle and drove off.
Pc Groves then pursued Tarrant in his marked police vehicle using blue lights and a siren.
He said he caught up with her at a red traffic light after travelling two miles through residential areas.
Moments later, Tarrant left the car to seek help from the driver of a Jeep who had pulled up behind her.
At this point Pc Groves "ran over" to arrest her.
'Resisting arrest'
"I took hold of her left arm and told her I was arresting her for failing to stop," he said. "I managed to get the left handcuff on. She was struggling."
As Tarrant shouted and screamed, Pc Groves said he warned her she would be forced "to ground" if she did not co-operate.
"She was still struggling and shouting - screaming very loud. Her arms were flailing."
Pc Groves said he wrestled Tarrant to the floor to place her right hand in a cuff.
After initially calming down, she began resisting arrest again as she was led to a police van.
"At that point Mrs Tarrant started struggling again, violently towards me," he said.
Once inside the van, Tarrant regained her composure and was "de-arrested" to be told she would face a court summons, the court heard.
Following her two-day trial at Staines Magistrates Court, Tarrant was fined £2,700 and ordered to pay £1,200 costs.
She was granted a divorce from television presenter Chris Tarrant at London's High Court in February 2007.