Conrad Black fraud case returns to court of appeal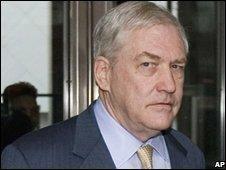 A US appeals court has been told to look again at the convictions of Conrad Black, the newspaper tycoon currently serving a prison sentence for fraud.
The US Supreme Court has set aside an earlier ruling upholding Black's convictions, saying that the government had not used the law correctly.
The court gave a similar ruling in the case of Jeffrey Skilling - the former chief executive of Enron.
The convictions of both men remain in place, however.
It will now be down to the appeals courts to decide whether to overturn the convictions.
Both Black and Skilling were convicted using the 'honest services' law - a federal law passed in 1988 that allows the prosecution of executives who deprive companies of their honest services.
Critics argue that the law is too vague and is being used to turn political and business mistakes into crimes.
Conrad Black was convicted of defrauding shareholders in his publishing company, Hollinger International - once the owner of the Daily Telegraph and the Chicago Sun-Times.
Following the Supreme Court ruling, Miguel Estrada, representing Mr Black, said: "We are confident the lower courts will quickly conclude that the errors that the Supreme Court has now conclusively found tainted every aspect of this case.
"We look forward to helping Mr Black regain his freedom".
Commenting on the Enron case, Justice Ruth Bader Ginsberg, one of the Supreme Court judges, said: "Because Skilling's misconduct entailed no bribe or kickback, he did not conspire to commit honest-services fraud under our confined construction of the law".
Jeffrey Skelling was convicted in 2006 over his role in the collapse of Enron, then the biggest corporate failure in US history.
He is serving a sentence of more than 24 years.
Related Internet Links
The BBC is not responsible for the content of external sites.