Reward for identity of Banbury killer raised to £30,000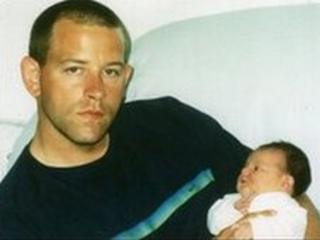 The reward for identifying the killer of a man who died in an attack outside an Oxfordshire pub has been increased to £30,000.
Kevin Lavelle, 29, of Bootle, Merseyside, was attacked by a gang from Wales with an iron bar outside the Cricketer's pub, Banbury, in June 2004.
Thames Valley Police's £20,000 reward has been increased by £10,000 from the Justice for Kevin Lavelle fund.
Police are revisiting south Wales to try to uncover new information.
Key witnesses
Ceri Noble, 44, of Rhondda, was charged with Mr Lavelle's murder but the court case collapsed in 2006 when it could not be proved who dealt the fatal blow.
Mr Lavelle had suffered 50 injuries.
Det Insp Steve Duffy, of Oxfordshire police, said: "I will not give up. Someone must know who did this to Kevin.
"There were people from the Pontypridd area of Wales in the pub at the time, who could be key witnesses."
The Justice for Kevin Lavelle Fund was set up by Mr Lavelle's family.
The reward is for information leading to the arrest and conviction of the person responsible for his death.