Customs seizes 60,000 cans of beer in Leicestershire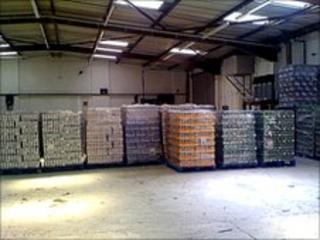 Almost 60,000 cans of beer have been seized in a raid on a warehouse in Leicestershire.
A van and an articulated lorry were also taken during the raid by officers from Revenue & Customs and Leicestershire police in Wigston.
Duty worth an estimated £30,000 was owing on the beer, officers said.
Customs officer Keith Morgan said: "We have teams operating across the Midlands who are committed to stopping those dealing in illicit alcohol."
Pc Steve Kouzaris, from Leicestershire Constabulary, said: "We would like to thank the member of the public who informed us of suspicious activity, which allowed us to disrupt this illicit operation."