Killer of man in London was already serving sentence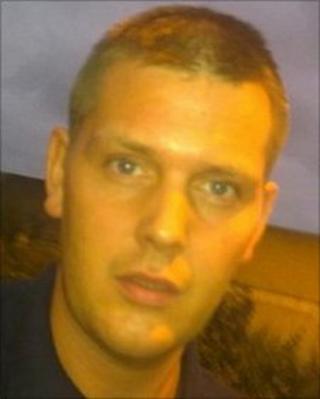 A man who admitted killing a peacemaker as he tried to break up a fight in west London was serving a suspended sentence for affray, it has emerged.
Nathan Doherty, 20, of West Drayton, was given an indeterminate prison term, and must serve at least two years, for the manslaughter of Frazer Bradshaw.
The 33-year-old suffered severe head injuries when he was knocked down in Cowley, Uxbridge, early on 1 January.
Doherty had 17 previous convictions, including one for affray in 2009.
At that time he was given a 12-month sentence, suspended for two years, at Isleworth Crown Court.
And Doherty had already breached the terms of the sentence, by failing to turn up for unpaid work, when he assaulted Mr Bradshaw.
The 33-year-old died in hospital three days after the attack outside the St James pub where he was trying to halt a brawl.
'Blind drunk'
Kate Wilkinson, prosecuting, told the Old Bailey: "It was Mr Bradshaw who tried to calm things down and act as a peacemaker.
"He said, 'leave it out'.
"Doherty emerged and punched him very hard in the face, causing him to fall to the ground," Ms Wilkinson added.
Doherty, of West Drayton, west London, walked into a police station to admit he had hit Mr Bradshaw and later pleaded guilty to manslaughter.
Judge Peter Beaumont said it was "concerning" that fewer than four months had passed between Doherty's previous conviction, in September 2009, and his attack on Mr Bradshaw, on the first day of 2010.
Doherty had been "blind drunk", the court heard, and had 17 previous convictions, dating back to 2004.
He was likely to commit further offences, fuelled by alcohol and "impulsive behaviour", the court was told.