Manchester's Central Library closes for revamp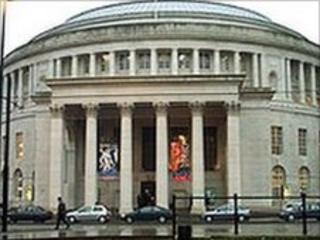 Manchester's Central Library has closed its doors for three years to allow the building to undergo a full restoration.
The iconic building in St Peter's Square will re-open with a state-of-the-art lending library, electronic catalogue and archive centre.
More than a million books, items and archives were moved ahead of the refurbishment, some of which have been stored in Cheshire's salt caverns.
In the meantime a temporary library has been set up on Deansgate.
The City Library facility opens on Monday 28 June in Elliot House.
'Exciting time'
Built in the 1930s, Central Library has a circular design that has often been compared to The Pantheon in Rome.
Its new archive centre will feature materials from the North West Film Archive, the Ahmed Iqbal Ullah Race Relations Resource Centre, Manchester and Lancashire Family History Society and the city's register office.
Councillor Mike Amesbury, Manchester City Council's executive member for culture and leisure, said: "We're heading into an exciting time for Manchester's library service and the improvements being made to Central Library will secure it for future generations.
"In the meantime we've got an excellent new library, City Library on Deansgate, providing all the services that our visitors have come to expect.
"There are of course a number of other libraries around the city, and a Manchester library card will enable members to use any of these as well."