City council wins right-of-way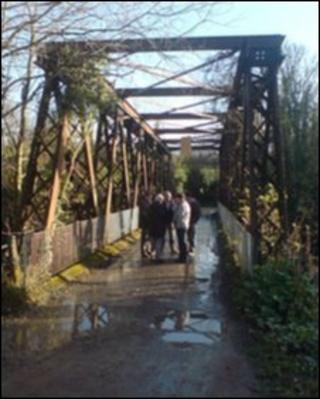 Derry City Council has won a court case to establish a right-of-way over a bridge across the River Faughan in Londonderry.
The council argued locals have used the crossing at Green Road for 200 years.
An iron bridge has crossed the river near Green Road at Ardmore since the 1920s, but in 2009 a couple went to court to establish ownership of it.
On Thursday, Londonderry Recorder's Court ruled the bridge was a public right of way and should be free from obstruction.
Dr Willie Brick, access officer with Derry City Council, said they were delighted with the decision.
"The judge confirmed the assertion we made last September," he said.
"It's good news for the people living around Ardmore and Drumhead. And hopefully we can develop the trail and open it up for additional recreational purposes and improve access to the countryside."
Local resident Marjorie Donaghey welcomed the judgement and said it was a victory for the "small person who can fight a case and have a right-of-way instated".
"I'm hoping that people will take advantage of it and really enjoy it in the future," she added.
'Entitlement'
At an earlier hearing, the court heard that the bridge is the only crossing on the river for five miles, and that the first Ordnance Survey map of the area, dating to the 1830s, shows a wooden bridge where the iron one now stands.
According to the legislation, the legal presumption is that a public right of way is inferred after 20 years of usage, and the council's case was that even before 1920 there was a crossing at that point for "a considerable period of time", and this therefore demonstrates entitlement to a right of way.
However, when the iron bridge was constructed in 1920 it was leased to the owner of the nearby Bleachgreen works for 85 years.
That lease expired in 2005 and the bridge returned to private ownership.