Public pianos inspire street music
By Tim Masters
Entertainment correspondent, BBC News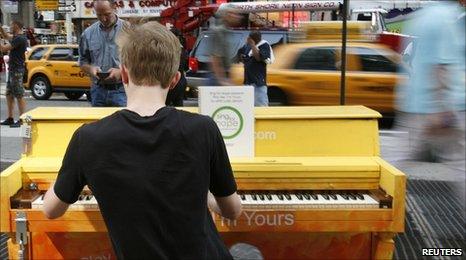 Over the past week, dozens of brightly-painted pianos have appeared on the streets of London and New York.
In a square next to St Paul's Cathedral, in the City of London, a man wanders over to an upright piano, plays three notes and then walks quickly away.
Nearby, at the Millennium Bridge, a group of Spanish students crash out the chords of Deep Purple's Smoke on the Water, segueing into Beethoven's For Elise.
Chopsticks is noticeable by its absence.
The street pianos are the brainchild of British artist Luke Jerram whose Play Me, I'm Yours project has been touring cities globally since 2008.
This year the project is being presented simultaneously in London and New York.
"This isn't about me and my creativity," says Jerram, speaking by phone from a piano in New York's Times Square.
"The pianos act as a blank canvas for everyone else's creativity. This is an opportunity for people to express themselves and connect with one other. You get strangers giving each other piano lessons."
It can lead to unexpected results. "There were two journalists who met over a piano in Sydney who recently got married."
In London, 21 street pianos have been placed in public gardens, streets and squares until 10 July 2010 to celebrate the City of London Festival.
In New York, there are 60 pianos in the Bronx, Brooklyn, Manhattan, Queens and Staten Island.
"I've just met Cyndi Lauper - she was playing a piano in Times Square," says Jerram. "There are lots of people who are trying to play all the pianos in one day - so there's a lot of fun to be had."
He adds: "I've got another eight more cities to go this year - Belfast, all the way to Cincinnati. It costs 10 times as much to do it here as in London because of the level of bureaucracy."
At London's Millennium Bridge piano, a man sits and plays an improvised piece that captivates a passing skateboarder.
The impromptu pianist is Maximilian White, an Italian living in London.
"I think it's a brilliant idea," he says. "A lot of people are too embarrassed to play but they've got a lot of hidden talent. Sometimes encouragement comes from within, but sometimes you need help."
Jonathan Brandon, a student in London, strikes up a tune at the same piano.
"I think it's a really neat idea. I play music in general, so I'm always attracted to the opportunity to sit down and play an instrument whenever I can."
Canadian Ryan Ard, visiting from Ottawa, plays a simple melody from a song he's writing on the guitar.
"A lot of times I walk past music shops and I want to walk inside and play an instrument to kill 10 minutes - so it's great to have it out on the street like this."
From 1-4 July, the Millennium Bridge piano will be linked by webcam with the piano in Times Square.
Although the pianos are out on the streets for several days, Luke Jerram says vandalism hasn't been a major problem.
"We've had one or two vandalised in Bristol, but with the 60 in New York there's been no problems so far.
"In Sao Paulo a piano costs a year's wage and none were stolen - what's important is the art project reaches a diverse audience.
"You've to take some risks to be able to reach people who don't ordinarily get access to art and go to galleries."
After the event the pianos are donated to local schools and community groups.
Related Internet Links
The BBC is not responsible for the content of external sites.