Foreign carmakers in St Petersburg face new union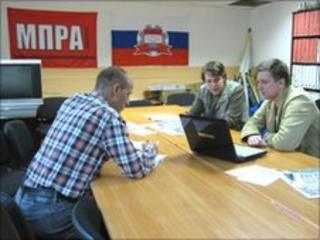 The Soviet Union may have prided itself on being a workers' paradise, but the reality was very different.
To this day, workers' representation and influence in companies is weak - even more so during the current economic crisis.
However, some car industry workers are trying to change that.
At foreign-owned car factories in St Petersburg, members of a new independent union have successfully gone on strike for higher pay.
But the success comes at a price: union members have been physically threatened and attacked.
Alexei Etmatov was on the way home from his late shift at the Ford plant when the attack happened.
"I was crossing the road in front of my home, and then three guys came up and hit me," he says.
"I don't think they wanted to kill me - just scare me."
That was one-and-a-half years ago. The 37-year old still does not know who was behind this attack - and two more that followed.
He suspects it has got to do with the fact that he has become one of the loudest voices of organised labour in today's Russia.
Three years ago, Mr Etmatov co-founded an independent trade union at his work place, the Ford plant near St Petersburg. He had been fed up with what he saw as a toothless labour movement.
Flexing muscles
We meet the welder-turned-union boss at the headquarter of the Interregional Trade Union of Autoworkers - or what passes for it.
The ITUA rents a few rooms in the basement of an apartment block outside the city centre.
Mr Etmatov is pacing through the main room, with more energy than you would expect from someone who has spent the past day or so travelling.
He has just got back from a trip to the United States, where he attended the constitutional convention of the United Autoworkers, one of America's most powerful trade unions.
Like its US counterparts, the ITUA is not afraid to flex its muscles. At Ford, they organised a series of strikes and other industrial action that yielded double digit pay rises - the last one only a few weeks ago.
We tried to talk to Ford about its relationship with the union, but company officials pulled out of an interview at the last minute.
But the Ford plant is not the only one were workers have tried to force management to raise wages.
Many multi-national carmakers have set up shop in St Petersburg, turning it into Russia's Detroit.
At General Motors, demands for higher pay resulted in the sacking of a union leader, although a court reinstated him later.
Word of the new union spread quickly - inspiring car workers at other companies to open chapters. Membership now stands at 3,000.
Now the ITUA has set its sight on Nissan's new assembly plant there.
'Dead unions'
"We're growing. Democratic unions that fight for workers' rights are in demand," says Mr Etmatov.
"People are leaving those unions which we call "dead unions" and which do nothing to protect their interests."
"Some of them are more like an HR department working for the employer than workers' representatives."
The established labour movement views its new colleagues with scepticism.
Since the collapse of the Soviet Union, organised labour has been through difficult times.
Once an integral part of the Communist system, union membership fell dramatically during the 1990s.
'More professional'
With some 17,000 members, the Mechanical Engineering Trade Union of Russia remains one of the biggest in the region.
Viktor Kalinin has seen it all - the dismantling of Soviet industry and the massive job losses in the 1990s, followed by the boom economy of the Noughties.
His trade union represented workers in the new auto factories, when GM, Toyota and Ford moved in to grab their share of the country's booming car market.
In some companies, they now work side by side with the ITUA, in some, like Ford, they have been replaced by the newcomers.
Mr Kalinin is at pains to dissociate his trade union from the ITUA, claiming to be "calmer and more professional".
They work more through cooperation with employers' associations and the authorities rather than confrontation.
Mr Kalinin doubts whether Mr Etmatov's aggressive strategy will pay off long term: "When you start saying that you're going to take industrial action like strikes or work-to-rule, you will only end up scaring your employer. It will let him mobilise his forces."
He also says that there was a moment when Ford threatened to close its factory.
"I remember getting an official letter saying some union's actions were damaging the investment attractiveness in St Petersburg."
"So Ford could close down its factory and others just won't come."
Strict labour code
In 1891, the first trade union rally in Russia was held in a St Petersburg suburb. At the time, they were banned.
Over a century later, trade unionists of all types believe the law remains firmly on the side of the employer.
Vladimir Kobzarye, a member of the Mechanical Engineering Trade Union, works at the Sestroretsk tools plant.
Last year, its foreign owners decided to close part of the factory.
"The terms of the current law made it easy for them to close down the main production unit of the plant," he claims.
"I think from now on unions and union leaders should think much more about how they can influence how the terms of the law are drawn up - or stand for office themselves."
Russia's Labour Code was changed in 2002.
"We lost the right to fire the heads of plants that violated collective bargaining agreements," says Mr Kalinin.
"Here in our meeting room we decided to sack seven bosses - that is impossible now."
The right to strike has been limited, and it has become more difficult to get recognised.
ITUA's Alexei Etmatov says that for the past 20 years there has been a policy of discrediting trade unions.
"Ever since the early 90s, we've been told you're be better off on your own and you can achieve anything you want.
"It's like an American dream - but it's impossible."
He says that because there is capitalism in Russia now, "you cannot do it on your own".
"We should strive to balance out workers' rights and with the interests of corporations."
For more about business in St Petersburg and the Russian economy watch Russia Business Report on BBC World News this weekend: on Saturday, 26 June at 0430 GMT and 1730 GMT and on Sunday, 27 June at 1030 GMT and 2330 GMT.