Terror suspect 28-day detention limit to be reviewed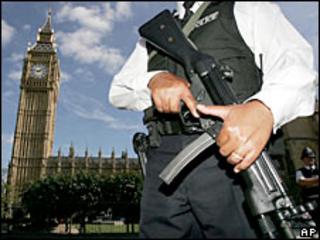 The detention of terror suspects for up to 28 days before charge will be reviewed, Home Secretary Theresa May has said.
She told MPs both parties in the coalition believed the 28-day period was a "temporary measure" and "will be looking to reduce it over time".
But the home secretary also announced that the limit would remain in place for at least another six months.
Civil rights group Liberty called for a reduction in the limit.
The 28-day limit, introduced under Labour's 2006 Terrorism Act, had prompted criticism from some civil rights groups.
'Serious threat'
The home secretary said the counter-terrorism legislation review will report in the autumn.
However, announcing her intention to renew the measure for another six months, Ms May said: "We face a serious threat and the nature of modern international terrorism means that police investigations can be longer and more complex than they have been in the past.
"At the same time, as a government, we are also committed to safeguarding the rights and liberties of the public.
"To ensure this balance is appropriately set, the government has made clear its commitment to review counter-terrorism legislation and pre-charge detention will form part of that review."
'Wholly unnecessary'
Liberty's director, Shami Chakrabarti, said the coalition government had "bound itself together with the language of civil liberties" and now must "reduce the longest pre-charge detention period of any western democracy".
She added: "A wide review of counterproductive counter-terror laws is welcome. At its conclusion, we also expect an end to the scandal of punishment without trial under control orders."
Meanwhile, former shadow home secretary David Davis said it was "wholly unnecessary" to extend the measure for another six months.
He said the legislation was unnecessary and one of a series of "authoritarian" measures introduced under the last government.