Pope's Coventry visit moved to Birmingham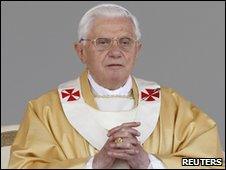 The location for the final day of the Pope's UK visit later this year has been moved from Coventry to Birmingham.
It was thought that Pope Benedict XVI would hold an open-air Mass at Coventry airport in September, but plans have been dropped in favour of Birmingham.
The Catholic church has asked the city council if Cofton Park could be used for the beatification of Cardinal John Henry Newman, who is buried nearby.
Rumours about a change to the location were dismissed earlier this month.
The Archdiocese of Birmingham said on 6 June the planned papal visit to Coventry would be going ahead.
The airport can hold crowds of up to 150,000, while Cofton Park, which is 25 miles (40km) away in Birmingham, only holds 80,000.
Pope Benedict XVI's visit, between 16 and 19 September, is the first papal visit to the UK since that of John Paul II in 1982.
His itinerary includes a reception with the Queen at Holyrood House in Edinburgh and open air Masses in Glasgow and London.
Former Governor of Hong Kong and EU Commissioner Lord Patten has been appointed to oversee his visit.
The full details of his itinerary will be published in July, said Alexander des Forges, a spokesman for the Catholic church.
He added that the park was a "fitting setting" and confirmed Pope Benedict would make a private pilgrimage to the rooms of Cardinal Newman at the nearby Birmingham Oratory.
Newman was an Anglican who converted in the mid-nineteenth century and became an intellectual and cultural icon for many Catholics.
The beatification would pave the way for him to be declared a saint by the Catholic Church, making him the first non-martyr in this country to be accorded sainthood since the Reformation, John Cornwell, author of "Newman's Unquiet Grave: The Reluctant Saint", said.
Mr des Forges said: "The park is immediately adjacent to Oratory House in Rednal where Cardinal Newman found a place of retreat for quiet reflection and work - he is buried in Rednal Cemetery.
"The park as a venue for the beatification means the Pope can pay a private pilgrimage to the rooms of Cardinal Newman at Birmingham Oratory.
"Both the Vatican and local churches believe the historical resonance of Cofton Park will prove to be a fitting setting for the beatification."
In a statement, Birmingham City Council said it was delighted the city had been approached.
"Birmingham City Council welcomes the news that Cardinal John Henry Newman will be beatified in September during the visit of Pope Benedict XVI," the statement read.
"We have always planned to support the visit through a programme celebrating the link between this city and Cardinal Newman.
"As a city we will of course afford the Government all possible support to make the papal visit a success."
Related Internet Links
The BBC is not responsible for the content of external sites.