Iran claims higher enriched uranium production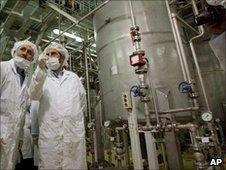 Iran says it has produced 17kg (37lb) of uranium enriched to 20%, in defiance of United Nations efforts to halt its nuclear programme.
The head of Iran's Atomic Energy Organisation said the country could now produce up to 5kg every month.
There has been no independent verification of the claims.
Iran says the fuel is needed to power a medical research reactor, but Western powers accuse Tehran of trying to develop nuclear weapons.
The announcement by Ali Akbar Salehi, who heads the atomic energy body and is also the Vice-President of Iran, adds another element to the row between Iran and the UN over its disputed nuclear programme.
On Monday, Iran barred two inspectors from the UN nuclear watchdog - the International Atomic Energy Agency (IAEA) - from entering the country, saying they had published an "untruthful" report.
All this comes the wake of a fourth round of UN sanctions imposed just two weeks ago and even tougher measures announced by both the US and the European Union.
Iran started refining uranium to 20% purity - up from around 5% previously - in February, saying it aimed to make fuel to power a research reactor that produces isotopes for treating cancer and for other medical purposes.
The move alarmed Western nations as it was seen as a significant step towards making weapons-grade uranium, which is 90% enriched.
Experts say that Iran's claim that it has produced 17kg of uranium enriched to just under 20% is impossible to verify.
In an IAEA report at the end of May, Iran was estimated to have about 11kg of this material and indications were that it was capable of producing it at a rate of about 3kg per month.
If Iran were to claim significant advances in its capacity to produce this more highly-enriched material, it might well lead to questions about how many centrifuge cascades it was devoting to this work, says the BBC's diplomatic correspondent Jonathan Marcus.
Many experts outside the country question if Iran is actually capable of turning the enriched uranium hexafluoride into the necessary fuel assemblies for the reactor, our correspondent adds.
Iran had hoped to avoid the latest UN sanctions by offering to send some of its low-enriched uranium (LEU) abroad in return for higher grade fuel.
The offer, brokered in May by Turkey and Brazil, revived a deal struck with major Western powers in October 2009.
But Western diplomats said the fuel swap was no longer viable as Iran had increased its LEU stockpile considerably in the meantime.
Related Internet Links
The BBC is not responsible for the content of external sites.