'No foetal pain before 24 weeks'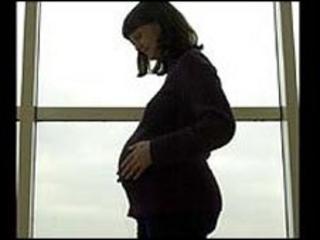 There is no new evidence to show foetuses feel pain in the womb before 24 weeks, and so no reason to challenge the abortion limit, UK doctors say.
The Royal College of Obstetricians and Gynaecologists' review said foetuses are "undeveloped and sedated".
Brain connections are not fully formed, and the environment of the womb creates a state of induced sleep, like unconsciousness, they add.
Anti-abortion campaigners challenged the reports.
The issue of whether a foetus of 24 weeks or below can feel pain had been raised in the debate over whether the current time limit for abortion should be reduced.
The limit is set down in the 1967 Abortion Act, which covers all parts of the UK apart from Northern Ireland. In Northern Ireland abortion is not permitted, unless the mother's health is at risk.
An up-to-date analysis of evidence was recommended by MPs in a report from the Commons Science and Technology committee during the last parliament, and commissioned by the Department of Health.
Abortion grounds
The first of the college's reviews examined whether or not a foetus can experience pain.
It found that nerve connections in the cortex, the area which processes responses to pain in the brain, does not form properly before 24 weeks.
The report states: "It can be concluded that the foetus cannot experience pain in any sense prior to this gestation."
Even after 24 weeks, the college concluded a foetus is naturally sedated and unconscious in the womb.
This could mean that late abortions, which are permitted for serious abnormalities or risks to the mother's health, may not result in foetal suffering.
In addition, the report says anaesthetics, which can be risky, would not be required if a foetus requires surgery.
It also tried to define what mental and physical abnormalities could result in a "serious handicap".
One per cent of abortions are carried out on these grounds. Such terminations can take place after 24 weeks.
In the past, campaigners concerned about the abortion law have argued that this has been interpreted too widely to include relatively minor disabilities.
But the Royal College said in its second report that it would not be practical to try to produce a list of conditions that would constitute serious handicap because it was too difficult to predict the long-term impact of an abnormality on a child or on their family.
Supporters of the current abortion law have welcomed this report, arguing that even within one condition there may be a wide range of severity.
Ann Furedi, chief executive of the British Pregnancy Advisory Service (BPAS), said taken together the two reports would provide a clear basis for difficult decisions.
"Women and doctors need to be able to make informed decisions based on what science says, not what advocates, whether pro-choice or anti-choice, wish it said."
Anne Quesney, international policy and parliamentary adviser at Marie Stopes, which provides abortions, said: "The RCOG's findings should give comfort and reassurance to any woman who finds herself in the extremely distressing position of having to make the decision to terminate a pregnancy at a later gestation."
But those campaigning for further limits on abortion say these reports do not reflect the full debate on the issue.
Josephine Quintavalle of the campaign group Comment on Reproductive Ethics said: "I think both reports tell us more about the RCOG's willing acceptance of late abortion than the reality of the scientific and ethical issues at stake."
And a spokeswoman for charity Life said: "We believe that the issue of whether or not an unborn child feels pain is highly peripheral to the ethical debate over abortion.
"Our intrinsic dignity as human beings does not in any way depend on the extent of our ability to feel pain."
A Downing Street spokeswoman said: "The Prime Minister's view is that he will be led by the science."
She added: "At the moment there are no plans to change the policy."
In the last vote on abortion in Parliament in 2008, MPs rejected a proposal to reduce the time limit for abortion from 24 weeks.