Man in Blair and Brown murder threat jailed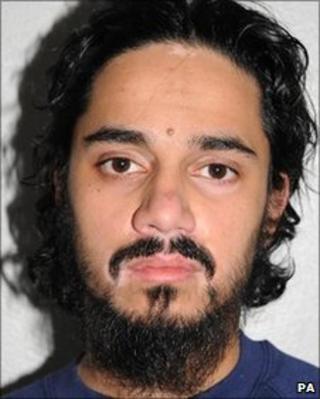 A man who urged Muslims to assassinate Tony Blair and Gordon Brown has been jailed for five years.
Ishaq Kanmi, 23, of Blackburn, posed as the head of "al-Qaeda in Britain" on a website in 2008. He said the two former PMs would be targeted by "martyrdom seekers" if his demands were not met.
He was convicted of terror offences including professing to belong to al-Qaeda and for inviting support for it.
Charges, which he denied, of soliciting to kill the ex-PMs were not pursued.
In May, when Kanmi admitted some charges, the Crown Prosecution Service said it was willing for the counts relating to Mr Brown and Mr Blair to lie on file.
At the time, Kanmi also admitted collecting or making a record of information likely to be useful to a terrorist and three counts of disseminating terrorist publications.
On Thursday, he received sentences of five years' imprisonment for all his offences, apart from one count of dissemination in which he was given a four-year jail term. All sentences run concurrently.
Airport arrest
At Manchester Crown Court, sentencing judge Mr Justice Mackay said the "mere assertion" that a serious terrorist group had been set up, even if it was bogus, would have caused alarm to the general population and was intended to do so.
He said: "This defendant between May 2007 and until his arrest in August 2008 effectively devoted his time and energy for hours and days on end to further his aims.
"We will never know what, if any, success he had," he said.
On Kanmi's plea for martyrdom, he added: "We will never know whether out there some young man has turned to thoughts of violence in the cause.
"If there was not such a person it was not for want of trying on the defendant's part."
In his postings, written in January 2008, Kanmi called for the withdrawal of UK troops from Iraq and Afghanistan.
He also demanded the release of all Muslim inmates at Belmarsh Prison in London.
At a hearing on Wednesday, ahead of his sentence, Manchester Crown Court was told there was no evidence Kanmi had any association with the hierarchy of al-Qaeda.
It also heard how there was no such organisation as "al-Qaeda in Britain".
Kanmi was arrested at Manchester airport in August 2008 carrying three electronic storage devices and a mobile phone which contained terror-related information he intended to distribute.
He had been planning to board a flight to Helsinki, together with Abbas Iqbal, also from Blackburn.
Iqbal is one of two brothers who filmed al-Qaeda-style propaganda in a park and dubbed themselves "The Blackburn Resistance".
In March he was sentenced at Manchester Crown Court to three years in jail.