Scottish agricultural sector 'weathers recession'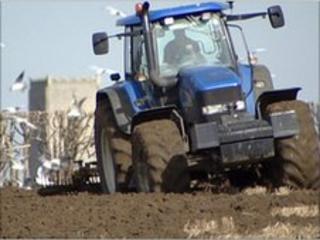 The agricultural industry has weathered the recession much better than most other sectors of the Scottish economy, according to a new report.
Total income from farming fell by £20m to £589m last year, a drop of 2.6% in real terms.
But investment levels in the industry remained strong, a Lloyds TSB Scotland study said.
The report was produced ahead of Scotland's farming showcase, the Royal Highland Show, being held in Edinburgh.
The industry's relatively strong performance was in part down to continuing extensive support payments, largely in the form of the Single Farm Payment (SFP), according to the study.
But it added there would be "repercussions" for many farm businesses as the distribution of the SFP changed in time.
"The industry should be reassured by its current financial performance and prospects for the future but there are many challenges ahead," the report said.
"Reducing carbon emissions and adapting to changing support structures will increasingly be the focus of attention of the Scottish agricultural industry."
Rural businesses
Agricultural borrowing has been virtually static over the past four years, but the report stressed there was "no evidence" of a lack of investment.
Last year, average farm business income (FBI) was £38,700, ranging from a low of £16,300 for specialist sheep farms to a high of £78,400 on dairy farm businesses.
Average FBI rose on five of the eight farm types while falling on the other three, the report said.
Meanwhile, the value of arable land in Scotland has more than doubled in the last eight years. Mixed farmland has shown a similar rate of increase with lower rises for dairy and hill farmland.
In other positive news for the industry, Rural Affairs Secretary Richard Lochhead announced grants of almost £4.2m to a range of rural businesses including Organic Potato Growers of Inverness and Speyfruit of Elgin, Moray.
Speaking at the Royal Highland Show, Mr Lochhead said: "Scotland's reputation as a producer of high quality food and drink can sustain the industry during hard times.
"As the government, we will continue to support our rural industries in whatever way we can and build on the principles of Recipe for Success - the next steps in our national food and drink policy."