Gates to open on 'tiny' Edinburgh garden reserve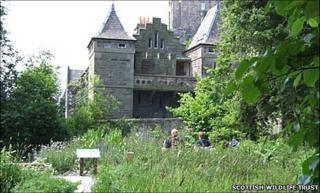 One of the smallest wildlife reserves in the Lothians is to temporarily open its doors to the public.
The Scottish Wildlife Trust's smallest reserve, at the top of the Patrick Geddes steps, will be open on Saturday from 1000 BST until 1600 BST.
The garden is between Johnston Terrace and the Grassmarket in Edinburgh city centre.
Frogs, bumblebees and butterflies, grey herons and blue tits and various plants and trees can be seen in the garden.
Julian Warman, Scottish Wildlife Trust's reserve manager for Edinburgh, said: "Johnston Terrace was first created as a place for urban wildlife by Scottish Wildlife Trust in 1982 and today it is a real gem within our historic city.
"The reserve is a great place to spot wildlife and a visit can help inform wildlife gardeners about the best ways and methods to manage a city centre garden to attract wildlife and help it thrive.
"Equally, if you are just passing by, it provides a beautiful setting to relax and enjoy some green surroundings.
"Unfortunately, every-day access is restricted to this site so I would urge the public to make the time and pop along on Saturday to explore our little pocket of urban wildlife."