Police appeal to cafe customers over Victoria stabbing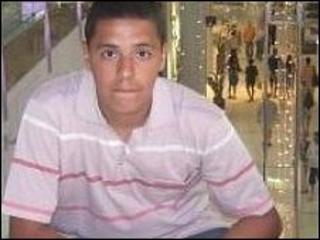 Police hope customers at a cafe at London's Victoria station can provide information about events leading to the murder of a teenager, who was chased into the ticket hall and stabbed.
Nineteen people have been charged over the killing of Sofyen Belamouadden, 15, of Acton, west London, on 25 March.
But officers still want to hear from any witnesses who were at the Victoria cafe on Terminus Place that day.
The business is beside a staircase leading down to Victoria Tube station.
Sofyen was a pupil at the Henry Compton School in Fulham, west London.
He played football for Acton Garden Village Youth Sunday League team in west London and for Chelsea Kicks, a scheme run by the Premier League club for young people in deprived areas.