Ghana's Black Stars snatch victory in defeat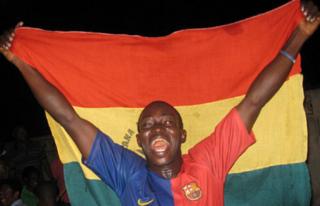 There was a delayed reaction to the celebrations that erupted in Ghana's capital Accra after the final whistle in Johannesburg's Soccer City stadium on Wednesday night.
Many football fans who had just watched Ghana lose 0-1 to Germany did not realise immediately that the Black Stars had in fact qualified for the World Cup's knock-out stage on goal difference.
Some were bewildered when others began celebrating Australia's 2-1 win over Serbia shortly before the end of Ghana's match.
But there was a palpable sigh of relief in the first sub-Saharan African nation to gain independence - not just among people watching in a sports bar hosting around 500 fans indoors and another 600-700 on the streets outside.
Across the continent no-one could stomach the thought of the first World Cup to be held on African soil becoming the worst World Cup for Africa's teams.
"I'm so proud to be a Ghanaian because Ghana has saved Africa's image," said one excited fan.
"I want to tell you something - in Ghana we are blessed," another said.
'The spirit is high'
The general consensus was that the Black Stars had put up a good fight, but there was no hiding the frowns and dropped jaws before the end of the match.
One of the eight screens at the bar was showing the Australia v Serbia match.
Few eyes were cast on this screen and yet ironically it was this fixture which sealed Ghana's place in the round of 16.
Ahead of the match with Germany, supporters were in positive-faith-mode: "We'll score them 2-0" being the most popular prediction.
Others went for a more modest, 1-0 or "the one goal project" - a defensive strategy attributed to Ghana's Serbian coach.
Very few Ghanaians will express doubts publicly before a match. It would be considered unpatriotic or even "un-Ghanaian" to have doubts about the nation's ability to succeed.
Pre-match predictions are rapidly forgotten in the aftermath.
"It doesn't matter, we're through," said a young woman clad in Ghana's national colours: Red, gold and green.
Another danced energetically, a vuvuzela in her mouth, a baby on her back.
"The spirit is high," she screamed. "The spirit is so high."
Bike stunts
There was no shortage of pride - the feeling of being special or chosen to lead Africa yet again in a struggle for self-determination and respect.
"The star is black but it always shines," one football fan replied.
"First to have independence in sub-Sahara Africa; first to qualify for this World Cup, first African team to win a match, the youngest team in this tournament, we are in for fire!"
The crowded streets of Accra's Osu district were filled with song and dance and the smoke of charcoal grilled kebabs late into the night.
Unsurprisingly young men performed dangerous stunts with motorbikes, until a heavy downpour of rain dispersed the crowds rapidly.
Over-exuberant celebrations have ended in several fatalities in past football competitions - but no authority in Ghana has ever succeeded in curtailing the enthusiasm that comes with the broadcast of an international football match.
That would be so "un-Ghanaian".