Glastonbury festival set for musical start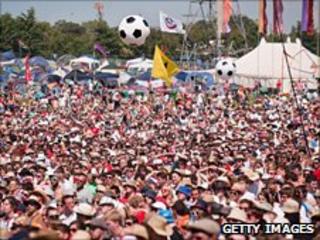 A handful of bands are due to kick off the Glastonbury festival later with the first sets of the weekend event.
Tens of thousands of music lovers arrived throughout the day on Wednesday, braving long traffic queues around Worthy Farm in Somerset.
Fine weather is predicted for the weekend, which will see headline sets from the likes of Gorillaz and Muse.
Also on Wednesday, thousands watched the England World Cup game against Slovenia on the Pyramid stage screens.
Prince Charles is also due to take a tour of the site later with festival founder Michael Eavis.
The prince, who is visiting in his capacity as president of Wateraid - a beneficiary of Glastonbury - is due to meet musicians, festival-goers and stall-holders.
On Thursday, up-and-coming bands and established acts will play on the Queen's Head and Glade stages among others.
On Friday, major acts including Gorillaz, Dizzee Rascal and Florence and the Machine will perform.
BBC weatherman Ian Fergusson said there was a low threat of showers and thunderstorms developing by the weekend, particularly later on Sunday.
But there was "a strong prospect of dry and very warm - even hot - weather prevailing right through to the end of the festival", he added.