'Vitality' goal for Scottish Borders town centres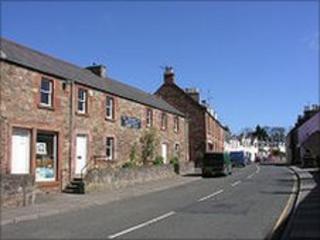 A range of measures has been drawn up to increase the "vitality and viability" of town centres across the Scottish Borders.
The latest retail survey of shop premises in the region showed an unchanged vacancy rate of 10%.
However, the level is higher in a number of towns including St Boswells, Hawick, Galashiels and West Linton.
Now the council has produced a list of actions to help to improve the "promotion of distinct town centres".
In December last year a total of 144 of the 1,456 retail units in the Borders were sitting empty.
The highest vacancy rate was in St Boswells with 17%, while the figure stood at 14% in Galashiels, Hawick and West Linton.
Distinct offers
Scottish Borders Council has listed a number of "key attributes" needed to assist in the "marketing of niche towns".
"The challenge for towns in the Scottish Borders is to deliver distinct retail offers, with a focus on 'character independents', fine food shops and markets," concluded the council report.
Visitor attractions, parking availability and a range of events and nightlife are also seen as important elements in reviving towns.
The council already offers a shop-front grant scheme and runs an empty shop initiative to tackle the problem.
It now hopes to "lever in support" from external funding providers to help further enhance town centres in the area.