Four British soldiers die in Afghanistan road accident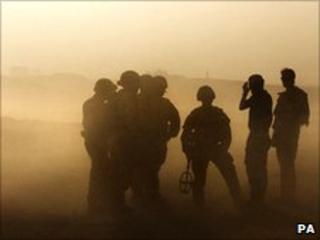 Four British soldiers have been killed in a road accident in Afghanistan, the Ministry of Defence has confirmed.
The soldiers, part of a police advisory team, were killed near Gereshk, Helmand province, on Wednesday evening.
They were travelling to help in an incident at a nearby checkpoint when they died.
Lt Col James Carr-Smith, said: "They will be sorely missed and their actions will not be forgotten." Their next of kin have been informed.
Three soldiers were from 1st Battalion The Mercian Regiment and one soldier was from 1st Battalion The Yorkshire Regiment, who was attached to 1st Battalion The Mercian Regiment.
Their deaths mean the total number of soldiers killed in Afghanistan since 2001 stands at 307.
'Absolutely committed'
The soldiers were travelling in a Ridgeback armoured vehicle which rolled off the road and ended up under water.
The Ministry of Defence said that enemy action was not thought to have been involved.
Eighteen UK personnel have died this month, with nine of these deaths taking place in the past seven days.
Loading..
On Wednesday, a marine from 40 Commando was shot dead by insurgents while conducting a security patrol in the Sangin district.
He was later named by the MoD as Sgt Steven Darbyshire, 35, from Wigan, in Greater Manchester.
Sgt Darbyshire was married with two young sons and was described by his commanding officer as "a selfless, honest and extraordinarily courageous leader".
Earlier, the MoD also released the name of L/Cpl Michael Taylor, 30, from Rhyl, who served with the same regiment and was fatally wounded in a shooting on Tuesday earlier.
Prime Minster David Cameron has said the UK remained "absolutely committed" to the UK's mission in Afghanistan despite the sacking of the US commander heading operations there.
US President Barack Obama fired Gen Stanley McChrystal after he made critical comments about his administration in a magazine interview.
The UK has 9,000 troops in Afghanistan, with US and British troops conducting joint operations against the Taliban in Helmand province.