Machynlleth Tesco store plans 'withdrawn'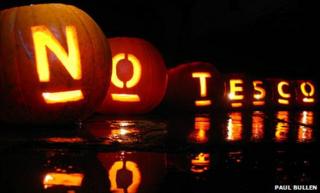 A new Tesco store in Powys is in doubt after the assembly government ruled the planning application should be refused on highways safety grounds.
The supermarket is earmarked for a site in Machynlleth, but assembly government officials became involved because it is on a trunk road.
It said the development would compromise safety for road users.
Tesco has been asked to comment, but Powys council said the company had withdrawn its application.
Among the reasons for refusing the application, assembly government officials said Tesco had failed to "demonstrate safe and appropriate links for pedestrians and cyclists between the store and the town's central core at Heol Maengwyn".
They said "forward visibility around the wall of St Peter's churchyard is considerably substandard", and a "proposal to signalise the clocktower junction would necessitate departures from national design standards, which may potentially compromise safety".
Jeopardise
A Powys council spokesman said the council had received notification that the assembly government was directing refusal on highway grounds.
"This and other planning issues will be considered by the planning committee next week," said the spokesman.
"Tesco withdrew its application for a store in Machynlleth on Tuesday. This application was due to be presented to the council's planning committee next week (29 June)."
At present, some people in Machynlleth travel 18 miles (28.9km) to shop at a supermarket in Aberystwyth, even though the town has smaller food stores.
Tesco has said its supermarket would provide shoppers with more choice.
But objectors have said the development could jeopardise small independent shops.
In 2008, there was a protest by local people who carved "No Tesco" in pumpkins.
Campaigners staged their protest during a parade to mark Halloween and Samhain, a Celtic festival celebrating the end of the harvest, on 1 November.