Minister refuses Knock golf course review call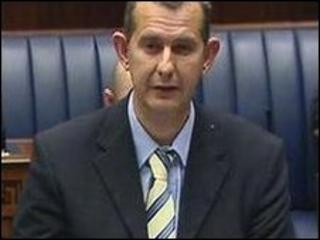 The environment minister has refused his assembly committee's call for an independent review into the Knock Golf course planning application.
Edwin Poots said it was inappropriate as the application is still being processed.
The application to build about 200 houses on the Castlereagh site has been controversial. It won planning approval despite breaching planning guidelines.
John Dallat, SDLP, said the minister was out of touch with public opinion.
Mr Dallat, who is on the environment committee, said: "He certainly has totally miscalculated the strength of feeling, not just amongst the Dundonald green belt group, but a whole wider spectrum of society who are extremely concerned that we have a planning service that, in the words of the Audit Office recently, is 'not fit for purpose.'"
Mr Dallat said he would be raising the issue at a planning committee on Thursday and renewing the call for an independent review.
The development is proposed for a green wedge or open space site, effectively a green belt site.
The news that Mr Poots was refusing the review call was contained in a letter, written by a departmental official on behalf of the minister.
"It might be helpful if I explain firstly that while the application has been recommended for approval, it remains at a critical stage in the overall approval process," the letter read.
"Any final approval decision will be the subject of a legal agreement to secure the appropriate community benefit and discussions are ongoing between the applicants, other interested parties including the Hospital Trust, plus the Belfast Divisional Planning Office.
"Secondly, this propsal is linked to a current application for a replacement facility near Newtownards. There are access difficulties at this site which the applicant is trying to resolve. Clearly, if the legal agreement cannot be successfully implemented the Department will have to review the application."
The letter states that it may be some time before issues are resolved and argues that it would not be appropriate to seek an independent review when the application is still being processed.
"To do so would be unprecedented and would not represent proper use of public funds," says the letter.